---
News and Updates

For site updates, announcements, and Lufia news.
| | | |
| --- | --- | --- |
| | Wednesday, September 13, 2017 | |

Lufia I and II soundtrack releases next month -
16:14 PST | Posted by SinReVi A new OST has been announced! It contains 3 CDs of Lufia I and II music and will be released next month 25th October for 3700 yen (about 28 Euro/33 US Dollar).
You can preorder it at CDJapan. This release is a great opportunity if you always wanted to own Lufia I and II music on CD but missed out on the OSTs released in 1995 and 2006.


| | | |
| --- | --- | --- |
| | Thursday, December 29, 2016 | |

Lufia II Concert from last November -
20:31 PST | Posted by SinReVi A Lufia II only concert was performed by Music Engine in Japan on the 12th of November of this year, in the Mitaka City Arts Center Concert Hall.
This was Music Engine's first concert, and it consisted of around 40 songs, which were composed by Yasunori Shiono and arranged by Koichi Kawai.
After the concert was over, Yasunori Shiono held a signing session.


(most information from here)


Program:
M1 Judgment day, Main Theme
M2 Estpolis 1 Opening Motif, Theme of Town, the Earth
M3 Theme of Cave, Theme of Labyrinth, Battle #1
M4 Theme of Castle, Hidecka (Dekar)
M5 Theme of Tower, Theme of Shrine, Trembling
M6 Despair, Battle #2
M7 Ending Motif, The Sorrow of Parting
M8 Wedding Ceremony, Rice Shower

M9 The Mystery Lady,Mysterious Tone, Theme of Port Town
M10 Theme of Village, Lexis Shaia Lab, Jimmy and Tommy (Berty and Bart)
M11 Deep Blue, The Whole Silent World, Theme of Tower
M12 Theme of Mons, Over the Sky
M13 The Turret Forgotten, The Land Nobody Knew, The Fortress of Doom
M14 The Last Duel, Final Battle
M15 Four Master, battle #3
M16 The Mystery Lady, For the Savior, Ending, Priphea Flowers

Encore
Battle #3 (Soundtrack Arrange Version)

Before the concert, there was a speech by several people involved with Lufia II; Yasunori Shiono, Yukio Nakajima and Masahide Miyata.
First Masahide Miyata (the Director and Scenario Director of the games) told a story behind the creation of the Lufia series. He gathered about 4-5 people and wanted to create a RPG, so they developed a prototype using PC98 and he tried selling it to several companies. This was before powerpoint existed so they presented it to companies using a PC98 and a CRT monitor.
Taito bought it, but when development of the game was officially approved, the Super Nintendo was starting to get popular, so that's how Lufia I ended up on Super Nintendo instead of the PC98.
(but apparently the first prototype (including music) for PC98 isn't around anymore)

Yasunori Shiono mentioned composing music for Lufia I was hard, as it was his first Super Nintendo game. He had worked on PC games before, but apparently creating music works differently for Super Nintendo games because of the system, which has to do something with the use of sound samples and libraries.
Masahide Miyata thanked everyone for coming to the concert, even though Lufia II is a 20 year old game.
Yukio Nakajima also had a story about the development days of Lufia II, he told about how Yasunori Shiono received specifation notes for the songs from Masahide Miyata, but the descriptions were so short Yasunori Shiono replied with "These aren't specification notes, it's a song list!"
For example, for the ending music Masahide Miyata only wrote "tear-jerking" as the description.

An interesting fact is that Lufia II's music was completed before Masahide Miyata had finished writing the entire scenario, so he actually listened to Yasunori Shiono's music while writing, also mentioning he likes the battle themes.
Apparently he even used his headphones to listen to Lufia II music on loop all day!
He says when he was writing the final parts of the scenario, he was writing hard because he was boosted by the music.






| | | |
| --- | --- | --- |
| | Wednesday, September 7, 2016 | |

15th Anniversary -
16:45 PST | Posted by SinReVi Lufia The Legend Returns has its 15th anniversary today!
If you have a 3DS and want to (re)play the first portable entry of the Lufia series, don't forget it's available in the e-shop for just 5 euro/6 dollar.
Frue destruction!


| | | |
| --- | --- | --- |
| | Wednesday, August 10, 2016 | |

Lufia The Ruins of Lore to Japanese WiiU Virtual Console -
15:58 PST | Posted by SinReVi Next week Lufia The Ruins of Lore will be released in Japan on the Virtual Console on WiiU on the 17th of August.
Let's hope more Lufia games will make it to Virtual Console!


| | | |
| --- | --- | --- |
| | Sunday, July 10, 2016 | |

Lufia II Concert -
12:36 PST | Posted by SinReVi A Lufia II concert has been announced for Japan! It will be performed on the 12th of November in the Mitaka City Arts Center Concert Hall.
It's organised by Music Engine and they will play about 40 songs, which include the Main Theme, The Earth, Priphea, all the battle themes and For the Savior. The songs are composed by Yasunori Shiono and arranged by Kota Kawai.
For more information visit Music Engine's site.


| | | |
| --- | --- | --- |
| | Thursday, February 4, 2016 | |

Lufia III documents for sale -
09:56 PST | Posted by SinReVi Long time Lufia fans may remember Lufia III Ruins Chaser, the canceled sequel that was supposed to appear on Playstation in the late nineties. The game would have taken place 300 years after Lufia I.
Lufia III documents have recently shown up online on Yahoo Auction (a Japanese auction site)
A total of 320 A4 sized pages, with exception of some illustrations which are B4 sized instead.

With bidding starting at 500000 yen (about 4200 US Dollar/3800 Euro) it's not exactly cheap though.
The buyout price is 2000000 yen (about 17000 US dollar/15200 Euro).

The documents include:
-Scenario related (plot, dungeon maps) 109 pages
- Battle Screen Layout Design 43 pages
- Field Map Design Layout 8 pages
- World Map Design Layout 5 pages
- Camp Design Layout 30 pages
- Speech bubble designs 9 pages
- Movie illustrations (storyboard?) 27 pages
- Capsule Monsters rough designs 13 pages
- Party characters battle pattern(?), monsters 40 pages
- Image Board 22 pages
- Image board (B4 Size) 14 pages
-Floppy disk with scenario data is missing ?



| | | |
| --- | --- | --- |
| | Saturday, November 7, 2015 | |

Forum and Site Software Maintenance -
09:17 PST | Posted by Chris I undertook some essential maintenance on the underlying software of our website and forum today. These updates are now complete, and everything should be back online. Please do let me know however (in the comments thread for this news post) if you come across any error messages or bugs that did not exist before today!


| | | |
| --- | --- | --- |
| | Sunday, August 23, 2015 | |

If Lufia I was an anime serie... -
14:49 PST | Posted by SinReVi Have you ever wondered what Lufia I's opening and ending videos would sound like if it was an anime serie?
Yasunori Shiono has just uploaded a video of 2 songs he composed. The first one is an opening theme for if Lufia I was an anime, the second song is an ending theme.
I'm not sure about the details but apparently the songs were shown at the Estpolis/Neverland Off of last June and I think the Youtube description says while Yasunori Shiono composed the music, his wife wrote and sang the lyrics. (Estpolis/Neverland Off is a meeting of Lufia and Neverland fans held in Japan)


If you know Japanese, translations of the lyrics are welcome in the comments.


| | | |
| --- | --- | --- |
| | Saturday, August 22, 2015 | |

Lufia news from earlier this year -
06:09 PST | Posted by SinReVi Lufia The Legend Returns on Virtual Console
First a reminder that Lufia The Legend Returns was released on the 3DS Virtual Console in Europe late 2014 and in North America early 2015. So if you haven't bought it yet, what are you waiting for?
The game is not on the Japanese Virtual Console and there are no known plans to release it.

No Lufia II for Virtual Console?
Unfortunately, Lufia II has less luck with getting re-released on Virtual Console. In Natsume's Spring Q&A (published in April) they have mentioned "At this point, it's unlikely we'll see any other Natsume SNES games coming to the Virtual Console, as Nintendo's interest has moved onto other classic systems."
This would include Lufia II as well. On Twitter Natsume has also mentioned "Nintendo has already taken all the SNES games they want from us." in a reply to a fan hoping Lufia II would still appear on VC. Natsume also says they have no say about Lufia I getting re-released on Virtual Console, you'd have to ask Square-Enix about that (and the same goes for fans asking for new Lufia games, as Square-Enix owns the IP)
It's unknown if Lufia II will appear on the European VC (it was originally published by Nintendo themselves over there) or on the Japanese VC.

New fanmade Lufia II sound track CD
A fanmade Lufia sound track was released by Dangerous Mezashi Cat during Comiket of December 2014.
The name of the CD is "Void Island Campaign" and you can check the Japanese site over here. They also have a demo track! If you're wondering about the title, "Void Island" is the Japanese name of Doom Island.

As I own this CD myself, here are some pictures!

Front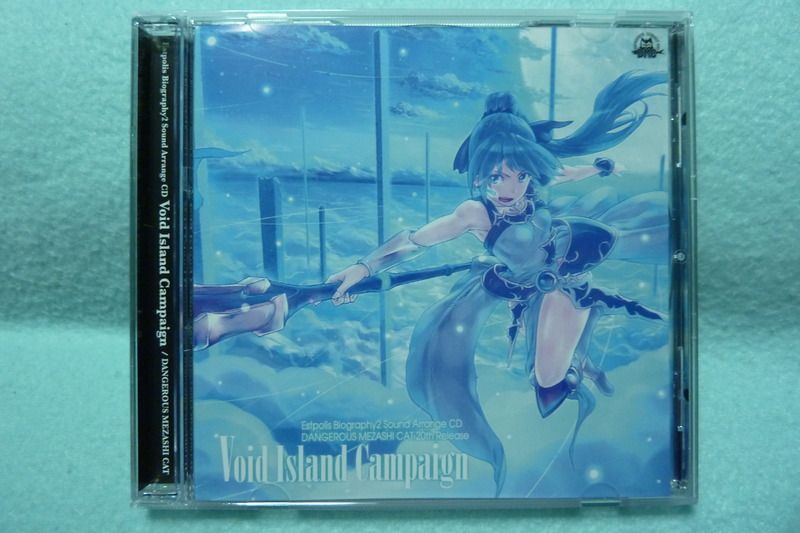 Back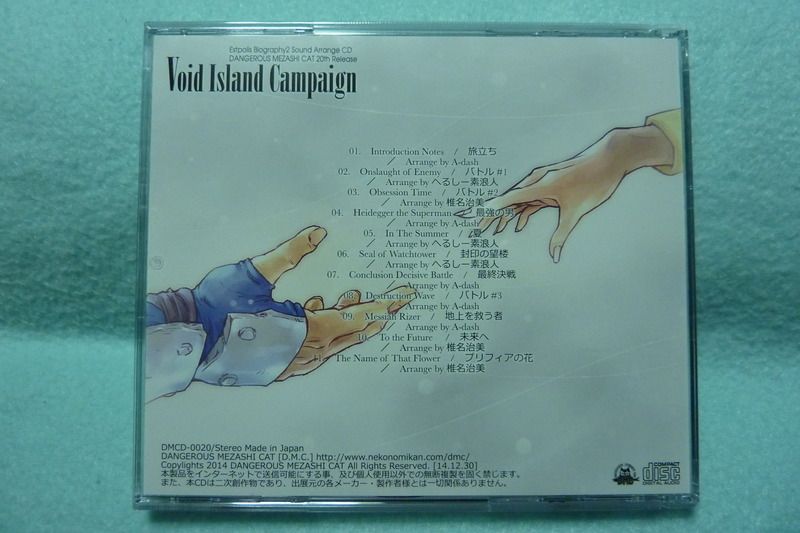 The CD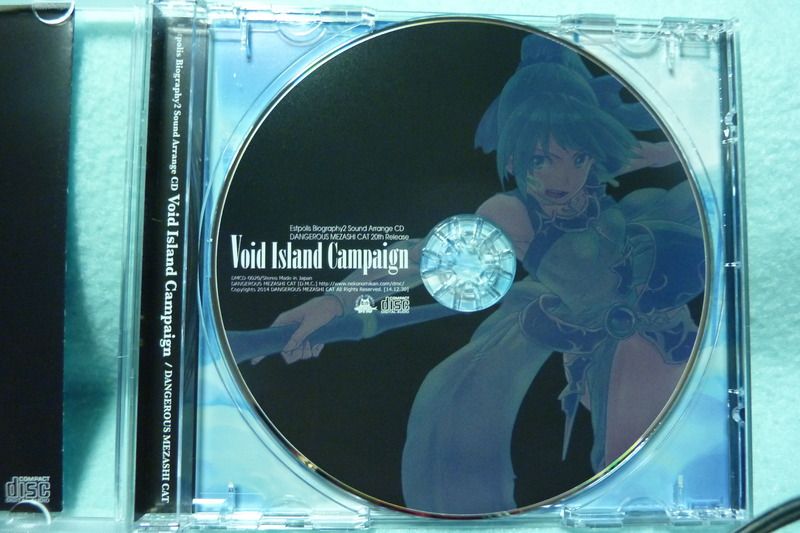 A closer look at the track list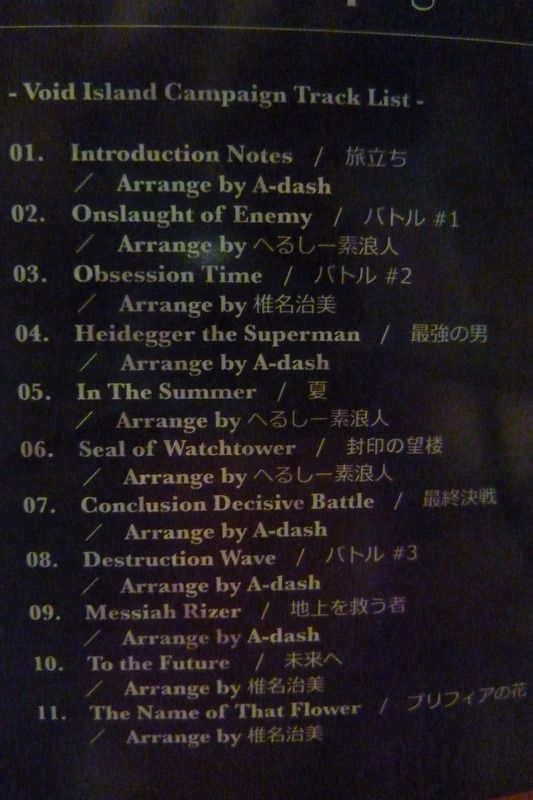 Bevebu bmyself]? Lufia II TAS record!

The TAS (tool-assisted-speedrun) record for Lufia II has been broken multiple times in the past few months, leading to weird glitches and funny scenes.
The current record is in hands of Genisto, who finished the game in just 57 seconds.

Estpolis Off 2015
Japanese fans have held a Lufia/Neverland meeting this year as well. The total number of guests was 23. Masahide Miyata, Yasunori Shiono, Yukio Nakajima and Kame Erika attended as special guests.
You can see the (Japanese) report over here.
Another thing mentioned there is that both Yasunori Shiono and Yukio Nakajima have worked on music for the Red Spider game series, which consist of 2 (Japanese) text based games.
(By the way, speaking of Yukio Nakajima, Puzzles & Dragons Z has recently been released for 3DS in North America and Europe. Yukio Nakajima is one of the 2 music composers for that game)

Lord of Magna

Though Neverland Company went bankrupt while developing their new game Lord of Magna, they were able to continue the game with Marvelous! Lord of Magna is a gridless strategy RPG for the 3DS and has been released in October 2014 in Japan and in June of this year in North America and Europe. The game was directed by Masahide Miyata, the director and scenario writer of the Lufia series, and the music was done by Tomoko Morita who was one of the music composers for Lufia The Legend Returns.



| | | |
| --- | --- | --- |
| | Thursday, August 13, 2015 | |

Lufia World Forum Back Online! -
20:43 PST | Posted by Chris I'm very happy to announce that our forum is back online, as of today. It was deactivated a couple of years ago due to a sustained campaign of spam, that not only left the forum unusable, but also exhausted our space quota, and - thanks to the nature of the spam - led to our suspension from the Google Adsense programme (which contributed more-or-less our annual hosting fees at the time). Suspending the forum was regrettable but necessary. Sadly, the size of the job to fix it, combined with the lack of time on my part, meant that it stayed in this state for over two years. After receiving a number of requests (and also missing the community myself), I spent some time cleaning up the spam, deleting users without any posts, and upgrading the software. New measures are also in place to prevent a repetition of this situation: new users must answer a simple Lufia-related question to register, and wait for my approval before they can post (I'll be quick!). I hope that things will be different this time. No doubt it will be hard to bring back the Lufia World community of old. Maybe it will never happen: a lot can change in two years (and holy moly, I'm nearly in my 30s, having put this site together and barely updated it since my teens!). Still, even if the community does not return, at least we can browse the older threads - our history - and rekindle some memories. Enjoy!


| | | |
| --- | --- | --- |
| | Saturday, June 6, 2015 | |

Lufia Comic Scanlation -
10:12 PST | Posted by SinReVi Miloscat has recently translated Lufia Comic into English, you can check it out here!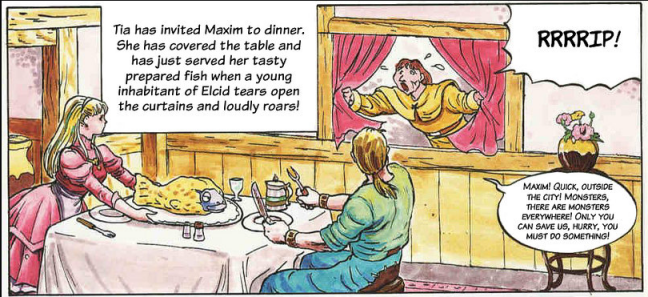 Lufia Comic was an official comic originally released in Germany and the Netherlands to promote Lufia II around its release.




| | | |
| --- | --- | --- |
| | Tuesday, February 24, 2015 | |

Lufia DS 5th anniversary -
19:54 PST | Posted by SinReVi Today it's been 5 years since the Japanese release of Lufia Curse of the Sinistrals!


| | | |
| --- | --- | --- |
| | Monday, February 23, 2015 | |

Happy birthday Lufia II! -
17:58 PST | Posted by SinReVi Today it has been 20 years since Lufia II was released in Japan! Happy anniversary!


| | | |
| --- | --- | --- |
| | Sunday, January 11, 2015 | |

Lufia : The Legend Returns coming soon to North America -
18:43 PST | Posted by SinReVi Are you a North American Lufia fan? Do you want to play Lufia the Legend Returns on your 3DS?
Good news, the wait is almost over! Natsume has announced that it will arrive in the North American 3DS E-shop this week on January 15th!

Natsume has already released Lufia The Legend Returns in Europe last year.


| | | |
| --- | --- | --- |
| | Tuesday, November 18, 2014 | |

Lufia The Legend Returns arrives in Europe this week -
19:26 PST | Posted by SinReVi Natsume has announced that Lufia The Legend Returns will come to the European 3DS eShop this week!
As for North America, Natsume is still waiting for a date from Nintendo, hoping it's this month.


| | | |
| --- | --- | --- |
| | Tuesday, June 17, 2014 | |

Lufia/Neverland news in short -
18:58 PST | Posted by SinReVi Hurray, the news system works again! Here are some links I collected about Lufia and Neverland Company related things that happened in the past 6 months!


January:

Lufia II trademark status changed to "Registered"

Ryusenkei Encounter released (Japanese only game co-developed by Neverland)

Rune Factory 4 cancelled for Europe

February:

Marvelous announces Forbidden Magna, a game developed by Rune Factory staff. The director for the game is Masahide Miyata who also worked on the Lufia games as director/scenario

Natsume comments on Neverland Company's bankruptcy, Lufia and Rune Factory

Lufia Kickstarter appears (and is canceled the next day)

Lufia Genesis Demo ROM shows up
Apparently Taito wanted the sega version done in a really short time frame. The port was handled by Teknocrest.
http://opa-ages.com/forums/topic/74650-prototype-of-a-playstation-game-i-worked-on-in-1994/page-2#entry1662859
http://gdri.smspower.org/wiki/index.php/Teknocrest
(There isn't much to do in the Lufia Genesis demo and the animation is clunky)

April

Chaos Seed English translation patch released

May

Lufia TLR rated, hints at VC release (it was recently confirmed to appear on the NA 3DS e-shop by Natsume!)

Yasunori Shiono, the main composer of the Lufia games, returns to composing music and releases a video with sample music.


| | | |
| --- | --- | --- |
| | Saturday, June 14, 2014 | |

Lufia: The Legend Returns Coming to the 3DS Virtual Console -
07:04 PST | Posted by Chris Natsume revealed in a Twitter post (on Friday 13th no less) that Lufia: The Legend Returns will be coming to the 3DS Virtual Console, along with another exciting title: Harvest Moon 2 GBC. Several other Tweeter's asked whether this might later lead to a Virtual Console release of Lufia II; to which Natsume replied: "absolutely still possible"!


| | | |
| --- | --- | --- |
| | Friday, November 29, 2013 | |

Neverland Company bankrupt -
10:05 PST | Posted by SinReVi Neverland Company, which has developed all Lufia games except Ruins of Lore, is going to file for bankruptcy...


| | | |
| --- | --- | --- |
| | Friday, July 12, 2013 | |

Lufia II proto gone public -
13:06 PST | Posted by SinReVi Do you remember the Japanese Lufia II proto?
Good news, because you can now play it yourself since Trevormacro has decided to make the ROM public!
I recommend using this code while playing the proto :7E057CFF. This enables debug mode.

Links:
- Original, unmodified ROM
- Fixed ROM
- Bugfix IPS patch

Also, Trevormacro gave permission to make the proto soundtrack public, so click here to download all proto music as MP3 files =)


| | | |
| --- | --- | --- |
| | Tuesday, June 25, 2013 | |

20th Anniversary -
14:54 PST | Posted by SinReVi It's the 20th anniversary of our beloved Lufia series!
I'd also like to link to this interesting article written by Anthony Gurr (that name should be familiar if you've finished Lufia I =P)
It seems at first, Taito was not planning a North American release of Lufia & The Fortress of Doom at all!


| | | |
| --- | --- | --- |
| | Wednesday, May 1, 2013 | |

More about the Estpolis II proto -
11:18 PST | Posted by SinReVi Here is some more interesting information about what Lufia II was like during development.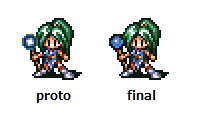 -Selan's staff looks different.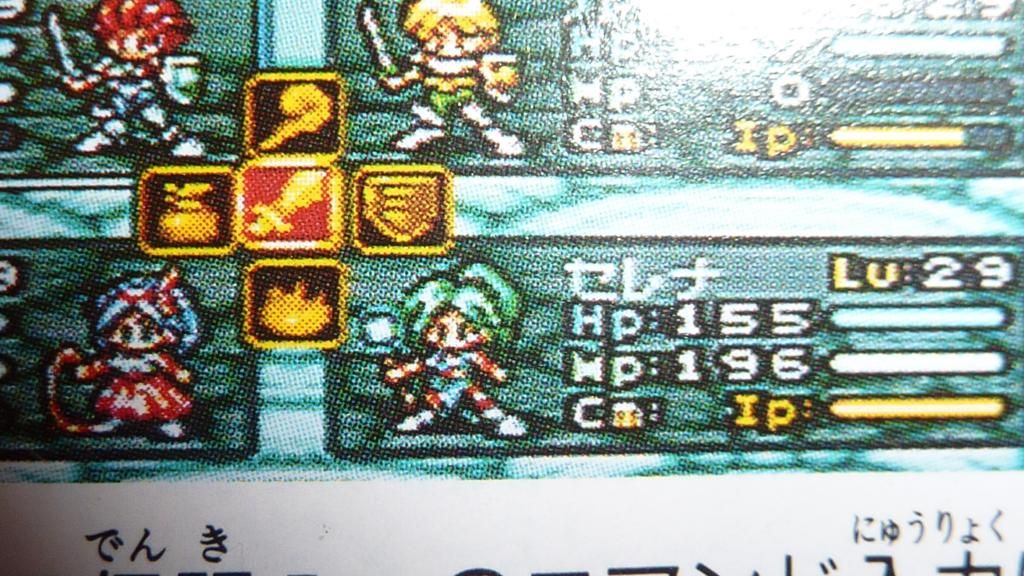 -This is a picture of the Japanese manual and Selan has the same staff as in the proto, which suggests that the change was made very late in development.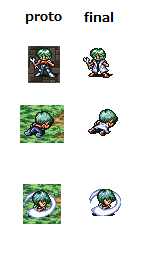 -Lexis wears different clothes during battle.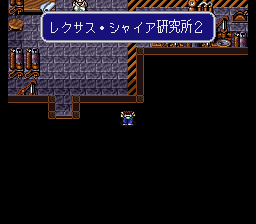 -Speaking of Lexis, according to this screenshot Kirmo Laboratory used to be called Lexis Laboratory 2!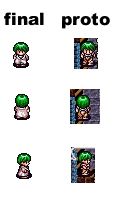 - Kirmo does exist in the proto, but he looks different.



- Jaffy looks different as well.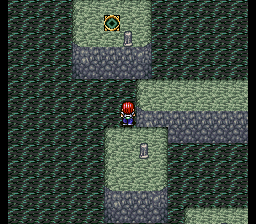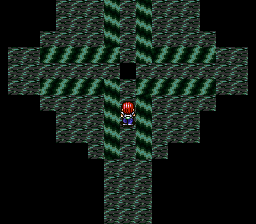 - Did you know that the small underwater caves were actually going to be dungeons?
Unlike the other dungeons in the proto, these underwater dungeons look really unfinished.


- Here's a video which shows that you had to go through a dungeon in order to visit the Dual Blade Shrine.
The caves to Preamarl, Dual Blade Shrine, Gratze and the Barnan Shrine were going to be dungeons. In the final game all that's left of them are small caves. The cave where you find Zeppy doesn't exist yet in the proto.

- The Ancient Cave exists on the map but entering the cave only results in a black screen. When visiting all locations through cheat codes, the Ancient Cave didn't show up either.


-Here's another removed location. This is the small shrine on Doom Island.
This location is stored right between the data of the Doom Island map and Daos' Shrine.
The map for the outside of Doom Island only shows black, and in the final version you can't walk outside without cheats and you can't visit the small shrine like you could in Lufia I.
I'm not sure what the old man says, but from what I can understand Maxim asks who the old man is, and he says something about watching the world. He also mentions the future and Daos.
Maxim also asks the old man "Are you... are you also a god?" but I'm not sure what the old man answers.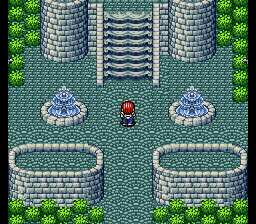 -The Three Towers look very different in the proto, both visually and lay-out wise.


- The final area also looks different in the proto.

-Trevormacro made a picture of the entire worldmap, which you can view here . And this is a comparison picture. (The images are kinda large, so I linked to them)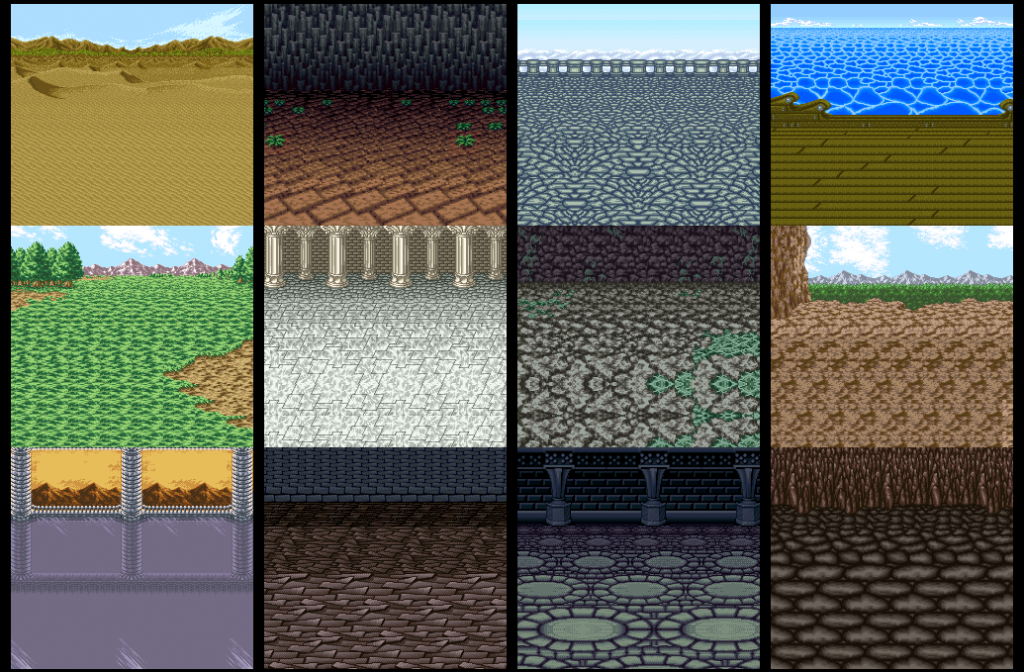 -This is what all the battle backgrounds look like in the proto.


- And this is what all the tracks sound like in the proto.


Neverland Company on Facebook -
07:58 PST | Posted by SinReVi Neverland Company, the developer of the Lufia series, has recently created a page on Facebook.
Right now it seems most messages are about their 20th anniversary (which was on April 14) and their recent move to a new location.
PS: Can you spot the Lufia poster in this photo? =P


| | | |
| --- | --- | --- |
| | Monday, March 25, 2013 | |

Lufia V Promo video -
09:38 PST | Posted by SinReVi Check out the latest promo video of Dekar the Great's fangame, Lufia V: For the Savior!



| | | |
| --- | --- | --- |
| | Friday, December 28, 2012 | |

Forums Disabled Temporarily -
18:00 PST | Posted by Chris Dear all, If you checked into the boards recently, you will have seen a huge amount of spam. Spam bots were registering new accounts every couple of minutes, and making several posts (often pornographic) even more frequently, making the board completely unusable. As a first step, I have disabled the board to stop new spam from appearing. However, it could be a while before we are in a position to re-enable it. First, there is an enormous clean up operation - thousands of posts and user accounts will have to be pruned, and our host is not capable of allowing the system to do this for more than a handful of accounts at once. Secondly, various upgrades and customisations will be required to prevent this from happening again in the future. I am sad that Lufia World will be entering 2013 without a usable message board, but please understand the severity of what has happened. I will do what I can to re-open the board as soon as possible, likely in February 2013. Thanks and apologies,
Chris


| | | |
| --- | --- | --- |
| | Tuesday, December 18, 2012 | |

Lufia V Demo 2.2 out now! -
12:26 PST | Posted by SinReVi A new demo of Dekar the Great's fangame, Lufia V for the Savior, has been released recently!
You can find the download link here.

And here's a video of the intro =)


| | | |
| --- | --- | --- |
| | Saturday, October 13, 2012 | |

Sinistrals sprites found in proto version of Estpolis II -
08:36 PST | Posted by SinReVi Anyone who has played Lufia II will remember the Sinistrals like this:








But did you know that they used to look like this during development?





| | | |
| --- | --- | --- |
| | Wednesday, September 19, 2012 | |

Estpolis proto version - part two -
14:18 PST | Posted by SinReVi Do you remember the two proto cartridges from a while ago? Well, here's some new information!
The NA proto version turned out to be the same as the final game. However the Japanese proto has many differences!
The Japanese proto was damaged during an attempted rom dump, but now it has a new owner, trevormacro, and he has a dump that's playable thanks to some help!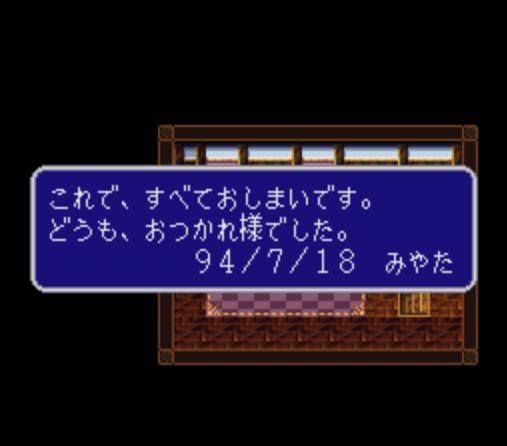 This is a screenshot of a note that shows up after the ending. It appears to be some kind of message by Masahide Miyata, who is the director and scenario composer of this game.
I don't really understand what he says besides something like "this is all", but it shows that this proto is from at least the 18th of July, 1994.

Since the game is a proto, that means the game is still unfinished. All the boss battles after the Ruby Cave are just placeholder battles with Goblins. The IP bar doesn't work yet and many treasure chests have different items inside.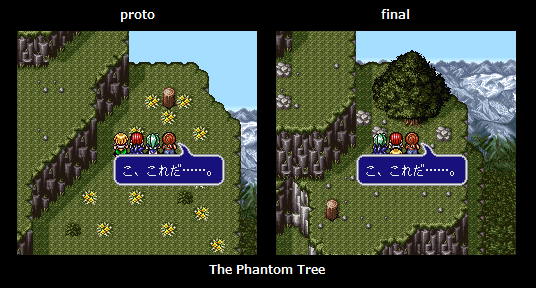 This picture shows that they haven't put the Phantom Tree sprite in the game yet =P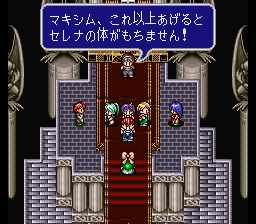 Apparently the Sinistrals don't have proper sprites yet, instead we have Iris (she has blue hair in the proto) with different clothes, Jyad, Rochy and Lemmy =P




This animation shows the difference between Iris' proto and final sprite.


This town didn't make it into the final version. The town doesn't have an overworld sprite so it might already be in the progress of being erased of the game.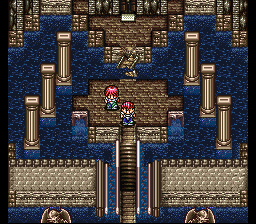 The proto has many different puzzles and areas and it also uses different tilesets. For all of the comparison images, check this link. For actual gameplay videos, check out trevormacro's youtube channel .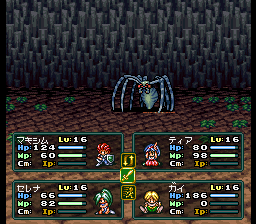 Many monsters have different sprites in battle.





Speaking of battles, there are victory dances at the end of the fight. Trevormacro hasn't have Lexis or Artea in his team yet.

Next is the music of the proto.
Almost all of the music tracks have some kind of difference in the use of instruments or in the background melodies.
Therefore I'll just show a few that have bigger differences.


This is Rumbling, the opening theme.


To the Future sounds different, starting from 3:12.


This is the love theme. This track might be an earlier WIP of the ending theme.


Door to the Journey has an intro in the proto. The Excerion also has an intro in the proto (you can also hear it on the OST or in Lufia Curse of the Sinistrals.)

Then there are also three tracks that did not make it into the final game at all!


This is Grief, it didn't make into the game but it does appear on the soundtrack CD, so you might already have heard this one. This version of Grief is actually used ingame in Lufia Curse of the Sinistrals, along with the Lufia I version.


This is Field Motif, a sad version of the world map theme.


And this is "Song 0C". Unlike the other two unused songs, this one isn't an arrangement of an existing song.
Therefore I just named it "Song 0C" since 0C just happened to be the value of the song.


| | | |
| --- | --- | --- |
| | Friday, September 14, 2012 | |

Demo 2.2 Coming Soon! -
09:26 PST | Posted by SinReVi Here's a message quoting a post of Dekar the Great on our forum:

" I've decided that I will be releasing one final version of the demo.
The demo will fix many, if not all main concerns/bugs that were present in the Demo 2.1.
It will feature very little new content, but will address many cosmetic changes, such as shadows and walls (I've been redoing a lot of dungeons/areas to make them more appealing.)
Most changes you probably won't notice unless you look closely.

Again, there really isn't THAT much new content. Just many fixes and graphical updates.

For example:
-there are now torches etc in dungeons along with crevices in walls to make dungeons look more authentic
-skill items can no longer be used during most events or when opening chests
-monsters no longer move if you use the arrow keys while opening a chest
-Taisume and Escasia have undergone a few graphical changes
-more shadow chipart added (mostly for the tower chipset)
-many text errors fixed,br> -slight improvements to some events
-removal of control of "grey man" in intro (he simply runs through himself, hard to explain, you'd have to see it)
-etc.

It will be mostly stuff like that.
Anyways, I am releasing this for new players to get the best experience they can get and for old players that perhaps want to play the demo again.
It will be done in a month or so, as I'm focusing primarily on finishing Ostiaka."


| | | |
| --- | --- | --- |
| | Monday, July 30, 2012 | |

Two proto versions of Lufia II in one week -
09:27 PST | Posted by SinReVi Not one, but two proto type versions of Lufia II have been sold last week! The first one is a Japanese proto bought by Jackhead, the other one is a NTSC-US version which was bought by Trevormacro.

This is a video of the intro and the first few minutes of the gameplay of the Japanese proto.


Here's a side-by-side comparison of the intro. (Left = proto version, Right = Final Japanese version)


This is the Lizardman boss battle.

Jackhead says that the game crashes if he attemps to enter a new location after finishing the Lake Cave.

Trevormacro doesn't have screenshots or videos (yet?) of the NTSC-US version but he does have a photo of the proto.



And while we're on the subject of prototypes, here's a video showing scans of pre-release screenshots.




| | | |
| --- | --- | --- |
| | Wednesday, July 4, 2012 | |

Neverland Company Off - Some interesting information -
10:00 PST | Posted by SinReVi A few days ago there was an event in Japan, which was a meeting/party for fans of Neverland Company.
It's called "Neverland Company Off" and it was held in a Game Cafe.

-------------
(first some notes before you read the rest of this message):
- I got this information from Lufia 3 Fanpage , this blogpost, and this collection of tweets related to Neverland Company Off.
I don't really know much Japanese so I used a translating machine. So feel free to correct me (or give additional information if you do know japanese)
- If you want to view photos, I suggest visiting these sites themselves. (since I don't know if they would like if I used their photos here)
- And I would also like to thank @below_normal (from twitter) for sharing information with me. (@below_normal says he/she is not very good at English.) (I think he/she's the one who organised the meeting)
----------------

Anyway, here's some more information.
There were dishes and drinks from the Lufia games, for example Cinnamon Pie, Navaroa, Miracle, Sundletan Tea and sunny side ups from Dragon Eggs. (The Dragon Eggs were actually ostrich eggs.)
There was also some recreated food from Chaos Seed and Energy Breaker (two Japanese only games by Neverland Company)

Although it's a fanmeeting, there were also 2 people related to Neverland Company, who were invited as special guests. They were none other than Masahide Miyata and Yukio Nakajima!
I have heard that they would like to invite Yasunori Shiono (the music composer) next year too.
Masahide Miyata is the Director and Scenario writer from Lufia I, II, TLR and Curse of the Sinistrals. Yukio Nakajima has also been with the Lufia series since the beginning, he did some music for Lufia TLR and re-arranged the music for Lufia DS (together with Tomoko Morita).
He was also in the credits of Lufia I ( his name only appears (as Y. Nakajima) in the Japanese credits if I remember correctly) and the credits of Lufia II. According to this (old) interview , he was responsible for "sound assist" in Lufia II.

Masahide Miyata and Yukio Nakajima have answered some questions about Lufia (as well as some other questions) so I'll try writing down the Lufia related information (from the Q&A that's on the Lufia 3 fanpage.)
Besides that they were also giving out autographs.

- About the origin of the name of Estpolis:
At first, they wanted to call the game "エステール" (Esteel? Estelle? Might be something like EsTale). However it seems there were problems with a trademark(?), so they had to change that name and went with a name that sounds similar to it, which is ofcourse Estpolis.
(エステール was being developed for the PC9801, but in the end it became Estpolis for the Super Nintendo) The "Est" part actually comes from the word "east". There's also some text about Estpolis meaning something like "Capital of the East" and that there is a continent in each area (north, west, etc)but I'm not sure what to make of those parts of the translation.

- Next is something about the slow walking speed and the encounter rates of Lufia I(?). I don't really know what it says but it seems to be something about "stretching the play time" and creating a sense of adventure. (not sure about this one)

- The Japanese TV ad for Lufia II has become well known since it was posted on youtube.

- Yukio Nakajima says Lufia I also had a TV commercial, however the company doesn't own a copy of the video. (It turned out it was this one:)

I think Yukio Nakajima says there is also a second TV commercial for Lufia I (not sure)

- Zeppy's Fish Head form was first supposed to be a mermaid. But it turned out the other way around, with the upper-body being the one of a fish, and the legs of a human.

- Some one at Neverland Company (the president of back then?) liked to play guitar, which led to the "Suhrcustom11" weapon in Lufia II. (Suhr Custom is a kind of guitar).
The tea from Sundletan is in the game because the staff was addicted to tea at the time (?).

- Then there's some text about the Ancient Cave from Lufia II which I don't understand.

- Miyata is a fan of Tia (?)(I think they were asking him to choose between Selan and Tia?)

- Karyn is a widow and Milka is not Artea's daughter. (Actually Lufia DS is more clear on Artea and Karyn's relationship to eachother, it says Karyn is Milka's mother and Artea is Milka's guardian, but he is not her father. Artea says that he is single and that Karyn's husband is his best friend. But when Tia asks what his friend is doing now, Artea doesn't want to talk about it, so according to the game itself it could be up to interpretation whether Karyn's husband is dead or missing.)

- There was a track that was not included on the original soundtrack (which was Daos' Theme from Lufia II). They explain why it wasn't included but I don't understand the translation.
(something about adding it late in the game, after the CD was already recorded?)

- Next are some questions about Lufia DS. They're saying something about the voice acting and the capacity of the game. (They were only able to use 1/3 of the voice acting because of the space? People asked if there should be a version of the game with full voice acting? Really not sure about these two parts)

- Lufia III Ruins Chaser's scenario has already been written (?) and it's stored on a hard disc of a PC of them. (I don't know if they're just talking about the story itself or if they mean the entire script (the character dialogues etc).)
Maybe it'll be used one day if the situation allows it(?)(not sure about this one)

- When Lufia III was announced at Tokyo Game Show 1998, there was a dance act (?) involving cosplayers of Cecil, Lily and Michelle. I think this is a (very vague) photo of it.

- The fans wanted to know if it's possible for Neverland Company to put the demo video from TGS 1998 online, however it seems that Neverland doesn't own a copy of the movie themselves. The only known remains they have is the music of that video, which was made by Yukio Nakajima. (he once sent the MP3 file to Forfeit Island, and you're still able to download it there.)

(note by myself: Perhaps Natsume owns a copy of the movie? There are some photos online of E3 1999, which show a video with Japanese text and they just slapped a Lufia logo on top of the Japanese Estpolis III logo. I think it's possible that it might be the same movie that was shown on TGS.)



- Yukio Nakajima says he's a Lufia fan himself (?)

- They were asked about what they think about the fact that some Lufia music was being plagiarized.
It seems that Neverland can't do much about it themselves, but they did receive an apology letter in the case of Super Robot Taisen K, which has the song "For the Savior" in it.
They're also aware of Alice Nine's song and that people online are showing the similarities between that song and Lufia II's boss battle. They say that even fans outside Japan know about the Alice Nine case.

- Miyata says there are also enthusiastic Lufia fans outside Japan, and that the company got fanmail that was written in English.