It was the final big RPG made for the NES, had an expanded chipset in the cart to accommodate the sound and graphics and really puts me in the mind of the Lufia games.
It's got a similar overworld art style to TLR, and has a storyline reminiscent of a Lufia plot; ie: generations ago, heroes came together to seal away a mad god. Now, someone is trying to awaken it, and those who carry on the bloodlines of the original heroes must band together to confront the mad sage before he can wake it up and signal the end of the world.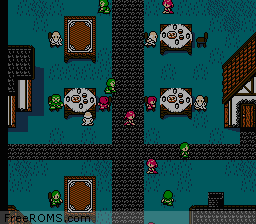 Bonus points for it's weird hybrid playstyle of typical JRPG and Tactics game.
Anyway, I'm enjoying it a lot, and thought I'd share it with you all