Moderator: Moderator Team
High God of the Lufians
Posts: 4638
Joined: Fri Jan 02, 2004 9:57 pm
Location: the Netherlands
Contact: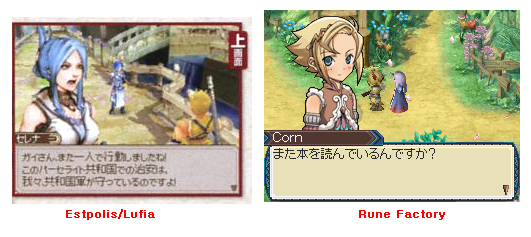 Just something I noticed. Rune Factory is also made by Neverland btw.

Lufia - Curse of the Sinistrals
~
OUT NOW! 2010
---
I consider this a good thing myself- they're learning as they progress, and enable Lufia to grow with them. We'll see how it will turn out, but I'm as excited as day one of the news
http://ti83magic.wordpress.com/
Any help, comments, suggestion or any other form of feedback is heavily appreciated
---
Arek's Apprentice
Posts: 1703
Joined: Wed Jun 04, 2008 2:14 am
Location: Wavespace (where the sinistrals were born)
Contact:
I would say that they used the same tools from Rune Factory. Nothing wrong with re-using tool sets.

Look at Unreal Tournament and Gears of War.
---DarkMaster2101

"Nonsense was beginning!"
---
Hero of the Lufians
Posts: 307
Joined: Thu Oct 09, 2008 4:15 pm
Location: in my own little world
Contact:
Yeah, as long as it works there's nothing wrong with reusing an engine.
Click to visit my Dragons.
---
---
Return to "Lufia Discussion and Help"
Who is online
Users browsing this forum: No registered users and 2 guests