Moderator: Moderator Team
Yes indeed
I will surely buy it at one point, since I really love the group art on this poster
---
Red Jelly
Posts: 17
Joined: Sun Jan 02, 2011 7:46 am
xellos667 wrote:As for the wallscoll, surely you saw the same thing as all of us on ebay. But as SinReVi stated earlier, those are not official products. Those are Lufia pictures the guy is printing on wallscroll. So since those are un-official products, you can't expect find a different price anywhere else. In Japan, they released actual posters, no wallscroll.
Ah, thank you for clarifying that. I saw it listed on Amazon actually and I was wondering if it was an official product or not. I would rather have a poster than a wall scroll anyway.
I love that group poster shot though. I'm going to get one of those when I can.
---
High God of the Lufians
Posts: 4647
Joined: Fri Jan 02, 2004 9:57 pm
Location: the Netherlands
Contact:
http://page13.auctions.yahoo.co.jp/jp/auction/r74116737
Someone selling their Lufia Ds set
http://www.amazon.co.jp/dp/B003BKELT2?t ... ZZNDG0K7W&
http://www.amazon.co.jp/dp/B0037SRMH6?t ... 25DBY7JE8&
I think #6 has a Estpolis feature and black/white Tia/Selan/Maxim artwork and #7 has VVV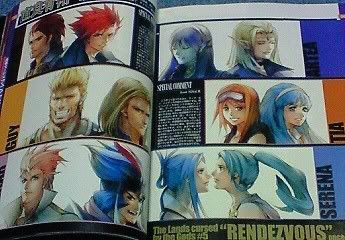 (but I'm not 100% sure?)

Lufia - Curse of the Sinistrals
~
OUT NOW! 2010
---
---
Return to "Lufia Discussion and Help"
Who is online
Users browsing this forum: Baidu [Spider] and 1 guest