A list of funny/weird things in the Lufia games =P
- Lufia II is the only game where Gades isn't the first boss you fight. (not counting Ruins of Lore since the Sinistrals don't even appear in that one)
- Lufia II and Lufia DS are the only games without pirates
- In Lufia DS, Tia makes you go to Albert to get some herbs. Which is probably a reference to the herbs mentioned in the beginning of Lufia I.
- in the Ancient Cave from Lufia DS, you can check out a stone which says something about Dailasek version blablablah... Anyway, Dailasek is an anagram of Arek's japanese name Alekdias.
- The name Navaroa is from a real fish, if you reverse the katakana (arowana)
- In Lufia I and Lufia TLR, you find out that Maxim was wearing the Wave Ring when he died, you can also see it in the equipment screen in the beginning of Lufia I. (in TLR, the ring was renamed Red ring in the Englisg translation though) Meanwhile, in Lufia II and Lufia DS, the games that focus on Maxim since he's the main character, Maxim never obtains the Wave Ring.
- In Lufia TLR, Deckard can obtain a useful IP Skill which is named D-End Flash. This is actually the very same IP skill Dekar is able to use with his Dekar Blade in Lufia II. The Japanese name of the Ip skill is Dead End Flash, however in the English version of Lufia II it was translated as Fatal Blow.
- In the Japanese version of Lufia I, Guard Daos actually uses attacks from Gades, Amon and Daos, just like he does in Lufia TLR. In the US version, Guard Daos mostly spams Amon's Flood and his Chaos attack, which was renamed Figual for this battle.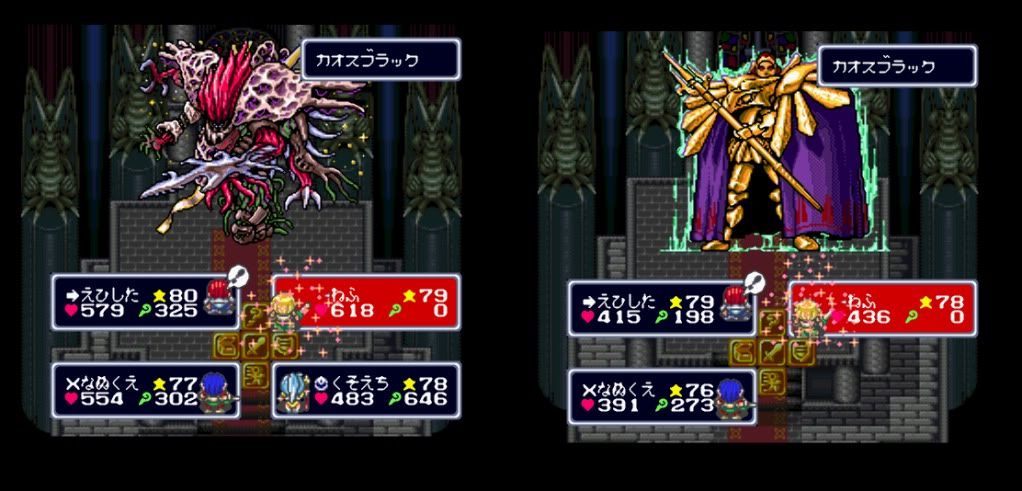 - There is an unused spell Figual, which lets you confuse enemies in Lufia I. You can "learn" this spell (and some others) by using cheat codes. So I guess that's where they got Figual's name from in the US version, since the confusion attack Amon and Guard Daos use is named Chaos Black in the Japanese game.
- In Lufia I and II, all elves are blonde except Artea.
- If I have to believe google translate, in the Japanese version Raile was trying to give Jerin a potion that makes your chest grow, not a potion that makes your hair grow.
- In Lufia DS, during the wedding scene a soldier, Tony, interrupts the weddingscene saying they need Selan. Then he, Maxim and Selan, Guy and Dekar run off to fight the monstesr. Meanwhile, if you pay attention to the background, you'll see that Ruben DOESN't help out =P Instead, he is still standing there and crying. You'd think that he, being part of the army, would go with Selan and Tony =P
- In Lufia II, during the scene with Dekar and Tia, you're able to see Jessy in the background ready for the next scene, which makes it looks like she's eavesdropping or something.
In Lufia DS, in this scene, there is a crowd around Maxim and Selan when Dekar walks away to Tia. If you look at the background later in the scene,after Dekar and Tia start walking, everyone who was standing in the park is gone, except Maxim. So now it looks like Maxim is eavesdropping on Dekar and Tia (if he's able to hear what they're saying from that far)
- In Lufia I, Artea is able to equip all kind of female equipment. But you'd need to use cheats to get the equipment. (my guess is that the Lufia II party is able to equip the same items as the Lufia I part > Maxim = Hero, Lufia = Selan, Guy = Aguro, and Jerin = Artea)
- You can already see Guy's grave before he's dead.
- In Frederia, you can buy a Gown and Ribbon in the shop. Which were actually a Bunny Suit and Bunny Ears in the Japanese version. So Raile lets the shop in Frederia, which is a village for Shaia staff, sell bunny equipment =P
- In Lufia I, when you get Cooper out of the Old Cave, you can get a little dialogue between him and the cleric of Bakku, if you go there instead of bringing Cooper to Raile right away.
- In Lufia DS many if the villagers NPCs are named after characters from earlier Lufia games (not necessarily Lufia II ) and some other Neverland games.
Elcid
Albert: Albert is the name of one of the main characters from (the canceled) Lufia III Ruin Chasers. The Albert from Lufia III is an elf.
Melissa: In Lufia TLR, Melissa is the name of Fugo and Etral's daughter.
Marin: In Lufia RoL, the dancer in Gruberik is named Marin.
Kreg: In Lufia II, Kreg is one of the men in Narcysus.
Parcelyte
Abel: He is the little boy who played with the key from the shrine north of Alunze... and then lost it. There's also a different Abel in Lufia RoL, who lives in Ordens, this Abel has a older brother named Cain.
Curtis: Curtis is the last name of the main character from Lufia III, whose full name is Cion Curtis. (the main characters from Lufia III have last names)
Lamitty: This is Lemmy obviously. Lamitty is Lemmy's Japanese name, but Natsume didn't change it to Lemmy this time.
Daniels: In the Japanese version, he's actually named ハリー which is how Halley's name is spelled in the Japanese version of CIMA The Enemy.
Zepel: Works for the King of Parcelyte in Lufia II
Bound Kingdom
Myra: This is the name of the main character from Energy Breaker.
Monica: In Rune factory 3, the sister of the "main girl" is named Monica