I'm currently replaying Lufia The Ruins of Lore, though at a slow pace. (Currently 4 hours in, after 2 weeks of playing)
(PS I do like Ruins of Lore, but the other Lufia games are just better compared to it
)
Anyway:
Things that Ruins of Lore did wrong:
- There are no savepoints in the dungeons! I'm complaining about this because the Quick-Save function stopped working on my cartridge! Which is the main reason I'm playing on emulator this time!
- There is only one save slot!
- Eldin is a mute protagonist. So he's far less interesting than the other Lufia protagonists.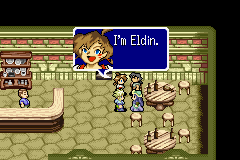 This is all Eldin says during the main story line =P
- There's lack of an antagonist you regularly meet. I mean you get to know a few things about Ragule but he only shows himself twice during the game! And the first time he barely says anything! And both times you meet him are spoiler?
right before the ending
I think you got to fight a bunch of random Gratzean soldiers along the way but they don't have any personality.
(except for Cain the soldier who helps you)
- What where they thinking when they removed the IP attack system from Lufia II and TLR? Instead, we get to Install when the IP bar is filled... But you can't control the fusion and from what I remember from all my previous playthroughs Installing is just not worth it, except for avoiding attacks. Also, Bau and Dekar can't even use Disc Monsters so the IP bar is useless for them!
- Shared Experience. So everyone levels slowly if you have a bigger party.
For example if you gain 1000 Exp and you have a full party of 8, each will only gain 125 Exp.
- You can only customise Eldin, Torma and Rami, and they're also the only ones who can use Disc Monsters. Which means: Dekar and Bau can only attack and use items, they never learn any skills! They also can't Install (fuse) with monsters, so their IP bar is worthless! (Bau is actually a permanent Installation, so at least for him it makes sense he can't use IP)
- RoL never references Tia and Lexis =/ They should at least reference Lexis since he's famous. Meanwhile the game does reference Maxim, Selan, Guy, Artea, Berty and Bart, Lisa, Marie, Clare, Jessy, Jeros (not by name) and Camu (his armor's in the game) . Dekar himself is a playable character.
- Slow battle animations.
- Lufia II and TLR had monsters moving in dungeons when you move. In Lufia II and TLR they moved in patterns, which add some strategy in moving around, but in RoL they just run after you once they spot you!
Things Ruins of Lore did right:
- Job System: I like the job system because of the customising... too bad you can only teach Eldin, Torma and Rami skills. I mean, sure Dekar is a temporarily team member (though he stays for quite a while from what I remember) but at least let Bau learn some skills!
- Alchemist System: I like this system to make new items
- The Eristol backstory is interesting.
- I like how there are random animals in villages/dungeons
- More (visual) variety of dungeons compared to the Lufia games before it.
Other thoughts:
- They introduced Wild Fencers in this game (humans permanently installed (fused) with monsters), but they're nowhere to be seen in any of the other Lufia games.
- I completely forgot that by the time Ruins of Lore begins, Gratze already started the war. (it was still only at the east though)
- spoiler
Will Eldin ever know about his past? And he's a mute so we don't even know if Eldin suspects he's adopted. Or any of his thoughts of what happens in the story for that matter.
=/
- I'm in the Tower of Guidance right now and I remember there are a few exclusive monsters here that you won't be able to catch later in the game because... I don't even remember why you can't enter the tower until later in the game. The monsters will change later in the game. So, since I don't exactly remember which monsters are exclusive here (besides the baby dragon), I decided to just catch them all =P
- Just how old is Marin? A NPC described her as "that young vixen" or something. When you meet her she's already friends with Eldin, a 14 year old. Then she's flattered about getting presents and a love letter from Mr Cashwell's son, who is at least Eldin and Torma's age (probably just a bit older since he's taller, and by some comments from women I guess he's 17?) The game makes clear Marin likes Dekar and then the ending of the game shows spoiler
Dekar, who is probably around 46 years old now, proposing to Marin.
- Eldin lives in Parcelyte but he went (goes?) to school in Gruberik?
- And they use a road to WALK from Parcelyte to Gruberik. But looking at the map they need to cross the ocean to reach Gruberik!
-Ragule gets the Ugliest Lufia Character Ever Award
- Now I think Ruins of Lore is very unlikely to happen in the Lufia DS universe. The whole thing that start the events of RoL is this: (exaggerated)
spoiler
Ragule: *comes out of nowhere* Hello King of Gratze! Let me help you rebuild your kingdom and restore your army! Oh and let's resurrect an ancient beast to make Gratze's army even more powerful!
King of Gratze: Wow what a great plan! Let's do it!
But in Lufia DS Gratze is not (spoiler)
d

estroyed like in Lufia II, so there is no kingdom to restore. And besides that, instead of just a random king Ragule would have to convince Leon and Thea (and probably Jude as well) to start a war.
Might add more when I continue playing.