Has anybody played this game? It is kinda rare and made by the same people who made Lufia I, Lufia II and Lufia TLR and Masahide Miyata has worked on the game too
. It is a puzzle-action-realtime rpg with a little bit strategy. It is different of other games. It is not your standard "Travel around the world" or "Let's defeat the enemy because we are the only people who can destroy it" story. The story is about Ark, a Gate Guardian (Gate Guardians protect people from CIMA). he and Ivy will protect the people in the game. There are 16 characters (including Ark and Ivy), 17 if you count Jester, but he leaves early in the game *SPOILER* Highlight to read
actually he gets killed in the first dungeon, poor Jester...
*END SPOILER*
Alright, what are CIMA? CIMA is the enemy
. They live in another world, the Gate World (if you save in the game it is misspelled "Gate the World
) What do they want? They bring humans in the Gate World and put them in dungeons. CIMA feed off of human hope. So it would be pretty useless if they just killed the humans right away, but there's also another reason... but find that out yourself because I don't want to spoil the story. In the game they brought a train with 14 pioneers in the Gate World.
There are no cities,towns,castles, shops or blablabla in the game you can visit. You can make items from your characters but they need to trust you. This is very important in the game (plus, if you gain more trust, you'll get extra dialogues in the Blue Creek) (Actually there is one little village in the game, but that's part of a dungeon. And the people there will always repeat themselves:
Youth: This is the village of Rooda.
Ark J: What? I didn't ask you anything...
Youth: This is the village of Rooda.
Ark J: I know. You just told me that! But why put a village here?
Youth: This is the village of Rooda.
Ark J: I heard you the first time!...
Ivy F: Ark, it's no use. Let's go.
Ark J: Yeah, you're right.
---
Youth: Go talk to the Mayor in the park. Something horrible has happened.
Ivy F: Why do we have to hear about it?
Youth: Go talk to the Mayor in the park. Something horrible has happened.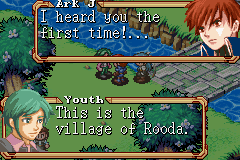 The dungeons are full with puzzles, there are only a few rooms without puzzles, in that kind of rooms you will probably find a treasurechest, a hidden chest, or there is going to happen something else like a bossfight. Originality gets definitely a 10+, um... wait! That's too low! Originality should at least get a 999999999999999999999999999999999999999999999999999999999999999999999999(insert more numbers here)+!!! I am not joking! Go and play and you see what I mean.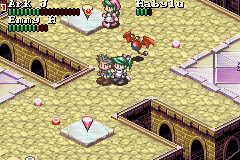 In the dungeons you play most of the time as Ark J and Ivy F, the other 14 characters are NPC (Non-Playable characters). But you can control them all. Your mission is to "Protect Everybody" and not "Kill the CIMA" You can not leave anybody behind, and also if anyone dies (it doesn't matter who) it is game over. You point, and the character(s) will walk to that point, you must use those persons to clear puzzles.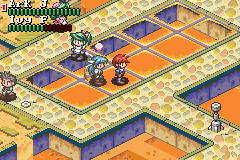 The game characters are well-developed, and in dungeons you can talk to them, if they have something to say. Sometimes they'll give you hints.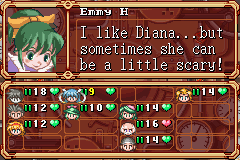 There is a magician who is not very brave (his fiance complains that even Doug (the old grandpa) and Halley and Emmy (the two little children) have more courage than him)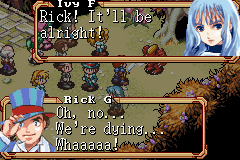 But not all people like the main character Ark. Doug doesn't trust any Gate Guardians because he lost his daughter 20 years ago because he believed the Gate Guardians. He will start with Trust -100. And there is also Vanrose, he's really stubborn and doesn't always listen to you and goes his own way, this'll give the Gate Guardians some trouble.
The people have different abilities, which you may need to solve the dungeons. For example Halley and Emmy can find hidden stuff and can reach places the adults can't. Doug can upgrade your armor and weapons. Everyone you put in Yurald's team will be less attacked by CIMA.
Of course there are a bunch of bad guys in the game. They are the Builder CIMA, they look more human-ish and build the dungeons. Pike is a member of the Crimson Nine, the nine most powerful CIMA. You'll meet Pike and four of his underlings. Genox, the not very serious and crazy one.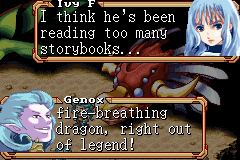 Elvira, who will show up when Genox has lost and is kinda weird too. Sawma is the quiet fighter and is much seriouser than the others. And Falcken is the ugliest person in the game and he is bald, and he met Doug before.
Bossbattles are hard, but there are a few easy ones. Congatulations if you can beat the game without dying! Some are easy if you know how to beat them *cough*Farlay*cough* Just don't get hit by that big meteors.