So back in 2014 I went inside a 2nd hand store and saw a black coat that reminded me of Maxim's jacket. It was longer than his, but I knew I could turn it into Maxim's coat myself =P
Then one or 2 days later... guess what... I found a 2nd hand red wig (in a different store) for just a few cents XD As there was an animecon coming up in one month, I decided to just go for it and make a Maxim cosplay in one month. (I have improved my cosplay after that con though! Got a new wig as well)
I think that in a way, that Maxim cosplay chose me instead of the other way around =P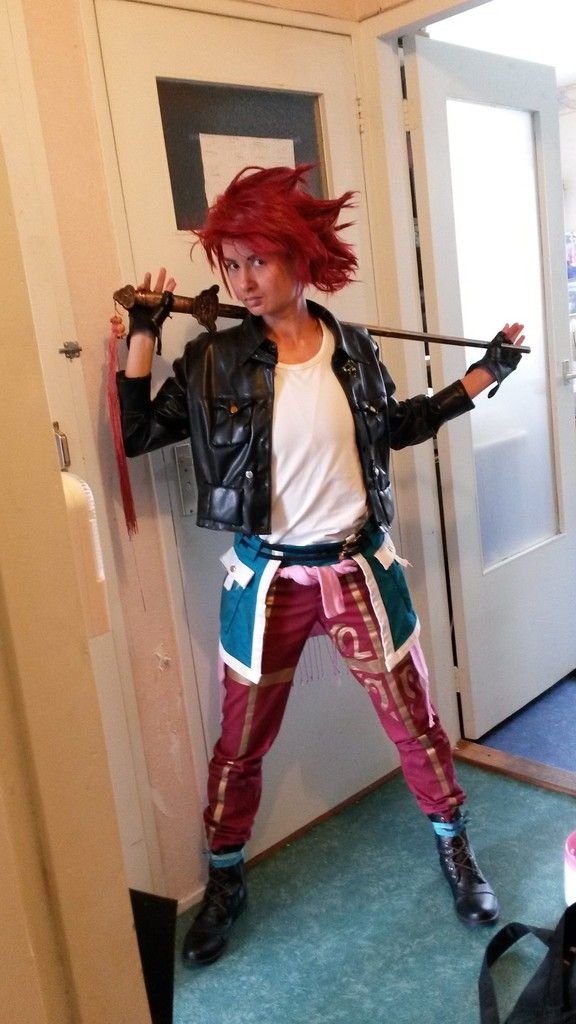 This is the current version of my Maxim cosplay which I wore to Animecon 2015 (the photo was taken afterwards at my parents' home though) I need to replace the gloves which are worn out=P
Miscellaneous photos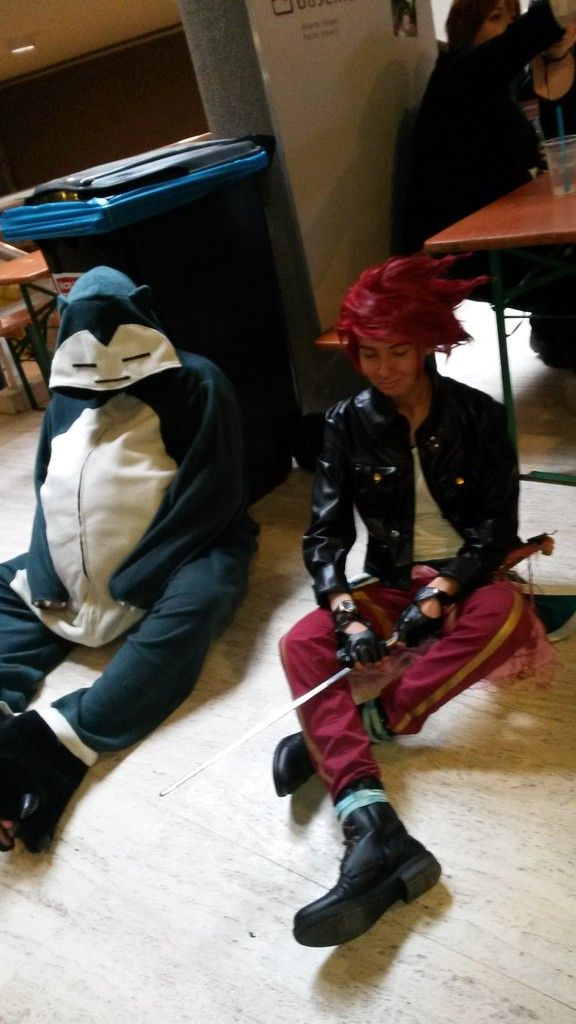 I like this photo with Snorlax =P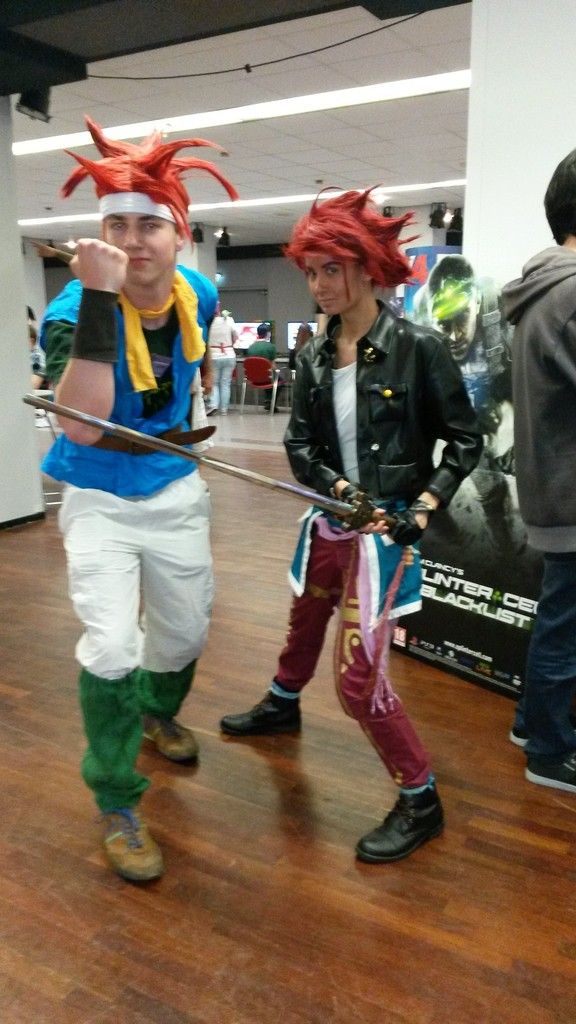 I ran into Crono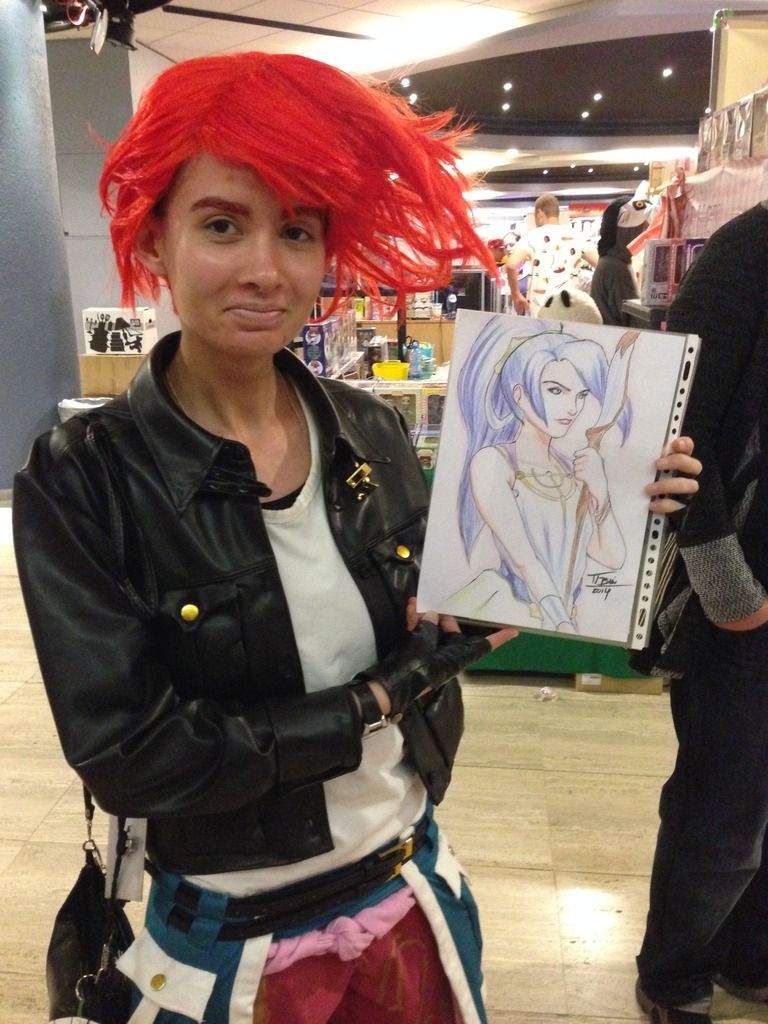 I went to a table to ask for a commission of Selan, turns out the artist is a Lufia fan as well and wanted a photo after his drawing was done.
This photo was still my first version of the cosplay, which has a different wig.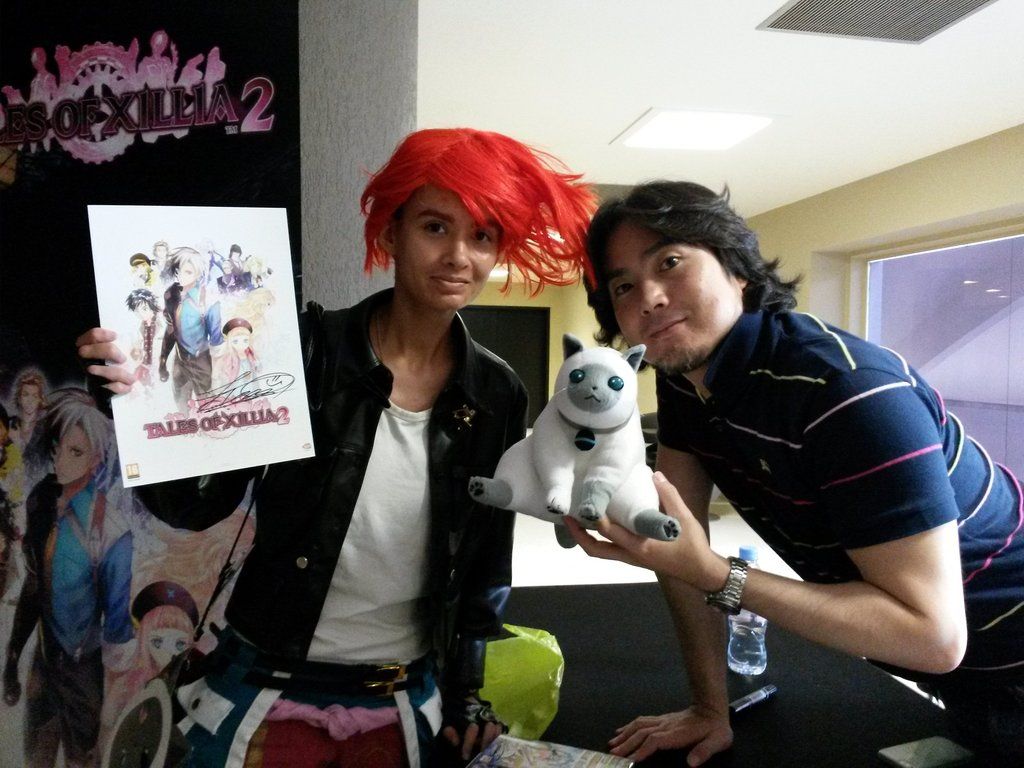 With Hideo Baba (from the Tales of Series) who was a guest at the con.
Making of:
(This is actually my first cosplay =P )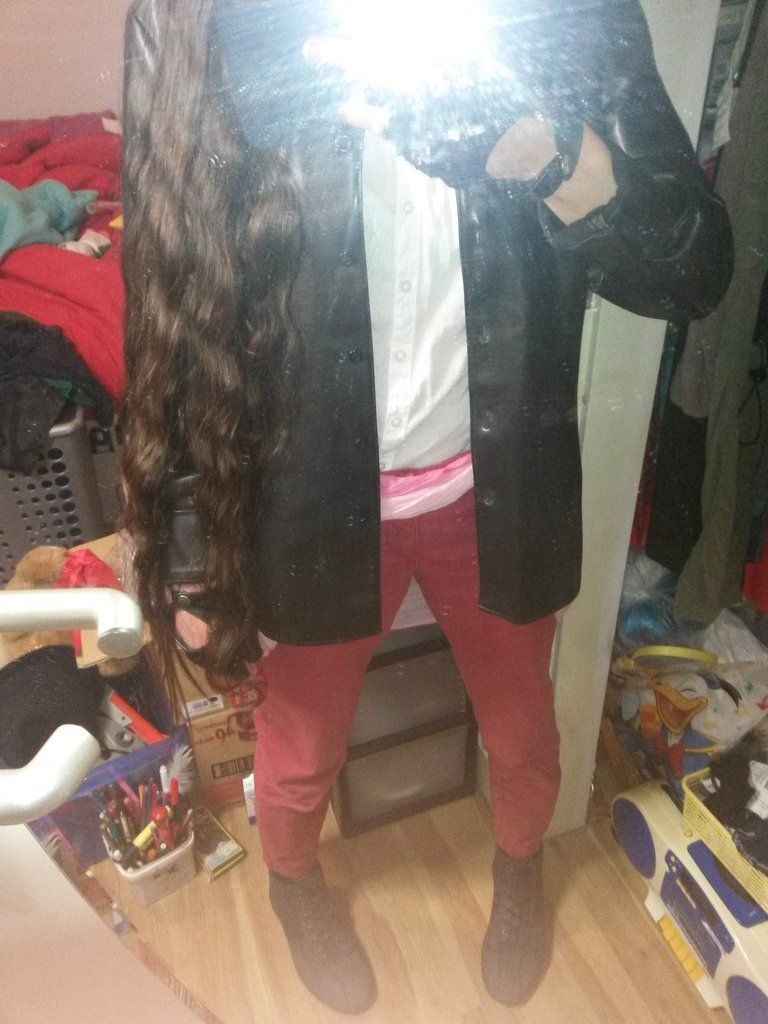 14-5-2014
This was the coat as I bought it. Everything else I'm wearing here is just random stuff from my wardrobe.
I made the pockets out of the cloth I cut off the coat.
Checking what length I wanted to make this coat =P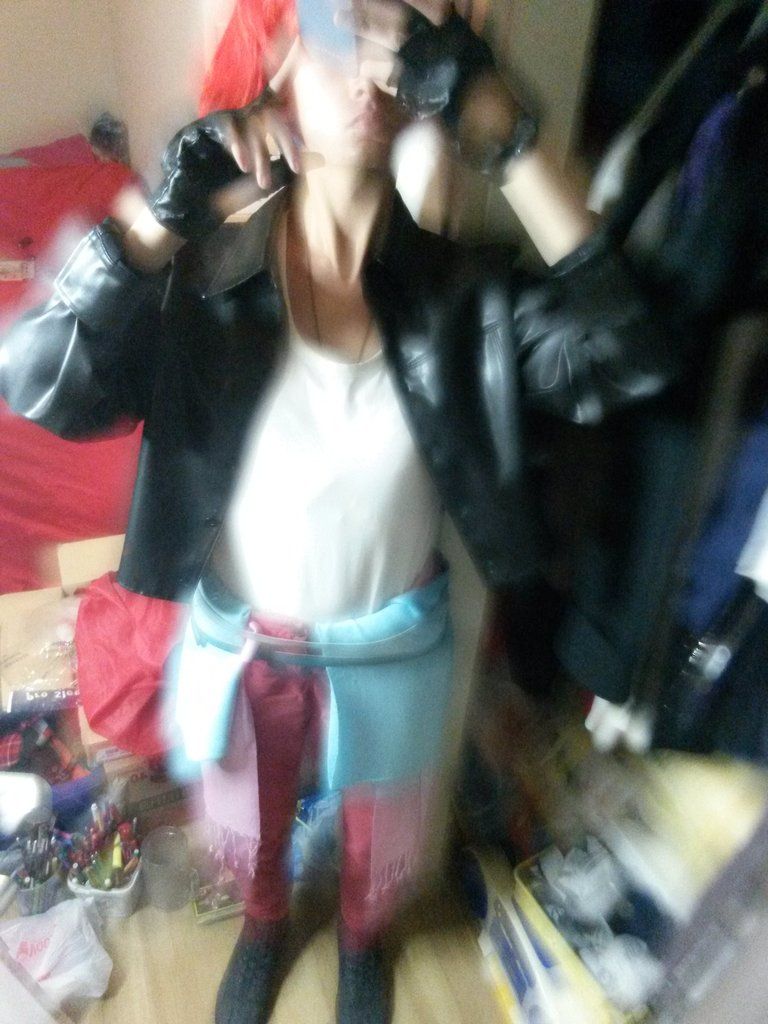 15-5-2014
That's when I found the red wig for a few cents =P
I shortened the coat and bought a \white T-shirt as I didn't own one =0 (well, not one that actually fit me, that is!)
Also bought 2 belts which were the wrong color, and a pink and a green scarf for... idk what to call them, those pink and green skirt like stuff Maxim wears.
I did end up using the pink scarf, but I didn't like the color of the green scarf (not the right kind of color, it's too light) and besides that the material isn't sturdy enough for what I wanted to turn it into.
17-5-2014
I think I was working on the pink cloth here. Anyway, this has a better view of the jacket before I added the details like pockets.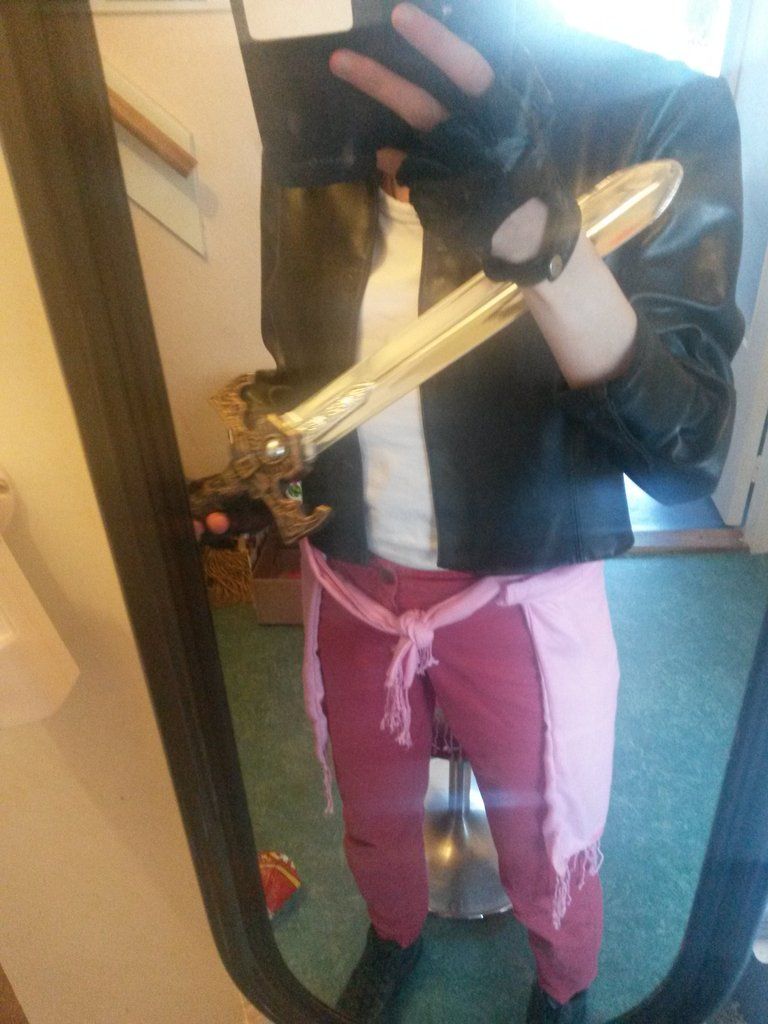 18-5-2014
Progress on pink thing. And I got a toy sword =P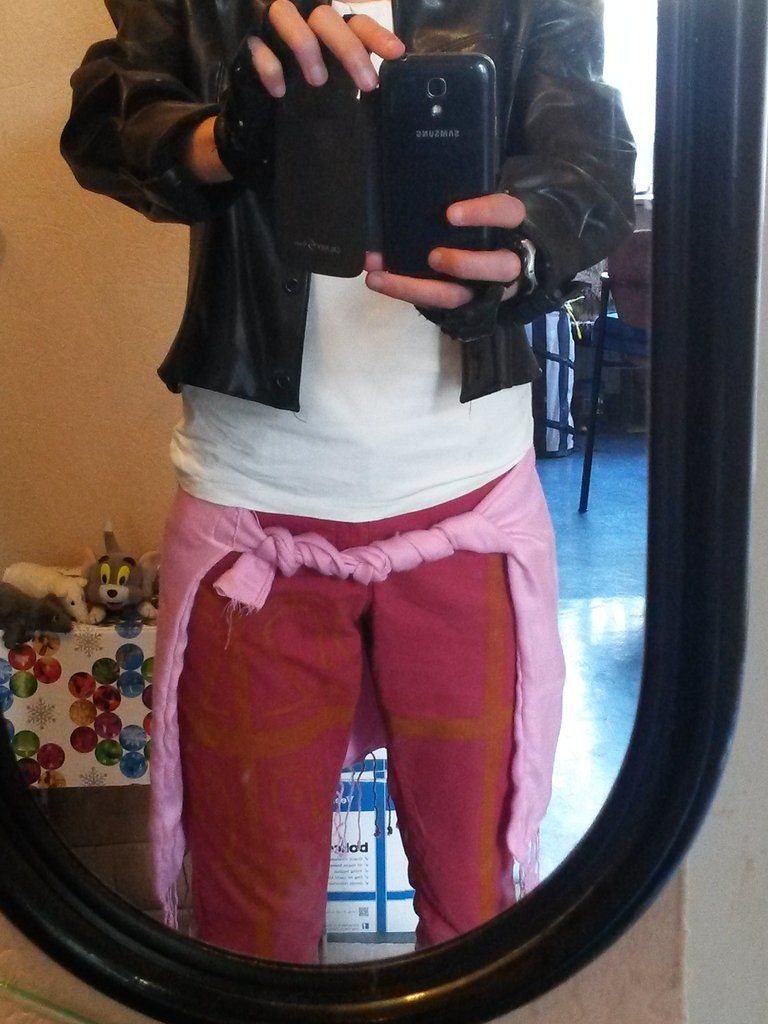 19-5-2014
I think the pink thing is finished here? I couldn't find any red pants in store that were also my size (and a reasonable price) so I sacrificed my own red pants for my cosplay.
The details on the pants were added with yellow crayons for textile.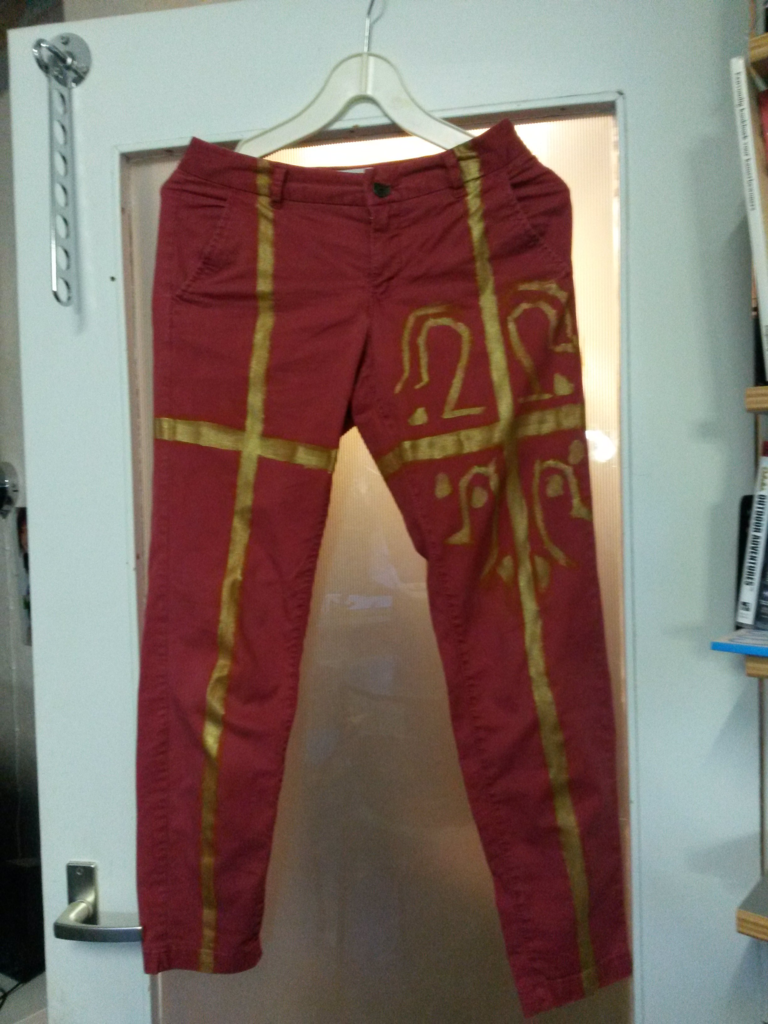 Unfortunately it turned out you couldn't see it unless there was really bright light, so I had to paint over it with gold textile paint.
Both the crayon and paint were done freehand.
I actually made a new pair of pants , the paint on the new pants were done by using tapes and templates so it looks much better than this one.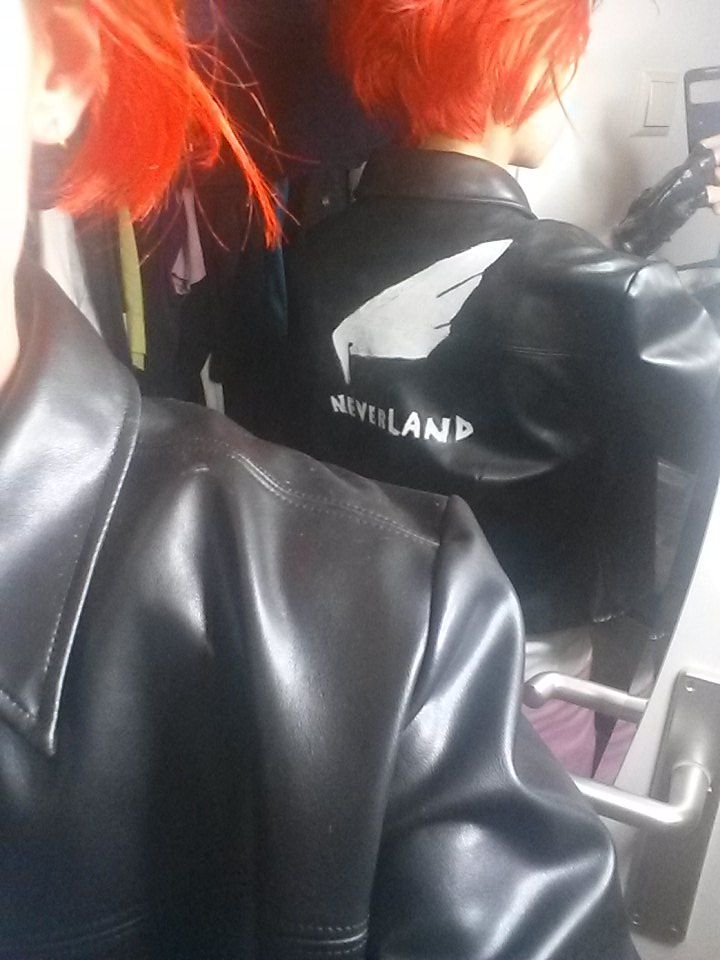 21-5-2014
The back of Maxim's jacket. As the writing is way too blurry in the trailer, I decided to write Neverland under the feather.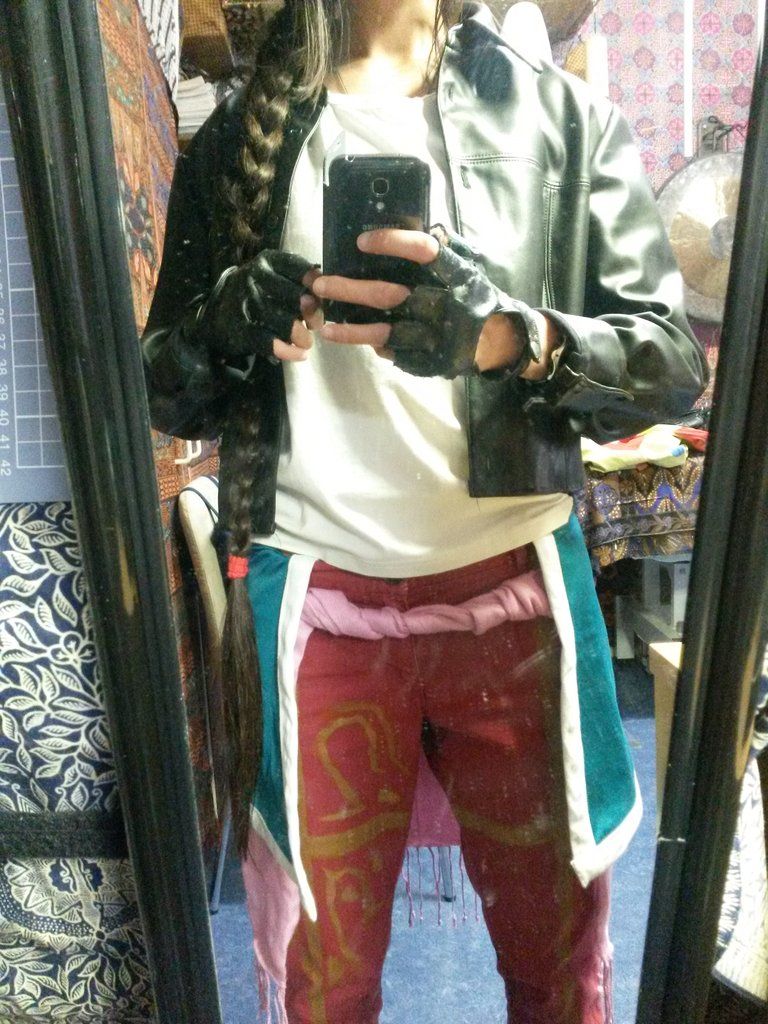 24-5-2014
Next was Maxim's green skirt-like cloth. Which is actually made of the lower part of a green dress =P The white is made of a white cloth I didn't need anymore.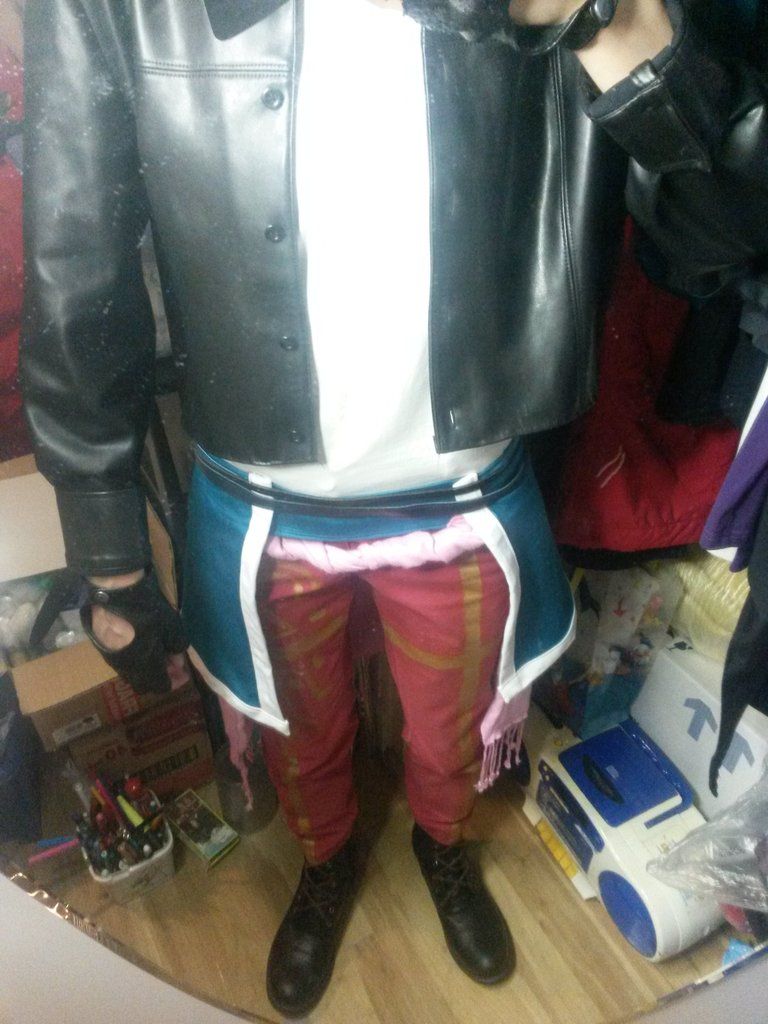 26-5-2014
2 new belts, in the right color. They... were actually not strong and 1 broke so I had to buy 2 new ones later. But I was actually able to use the weak belts to add details on the collar of the coat so that's a good thing!
Bought boots and replaced the ties with brown ones like Maxim's. Also tied it like him =P
Added a strap to the green cloth.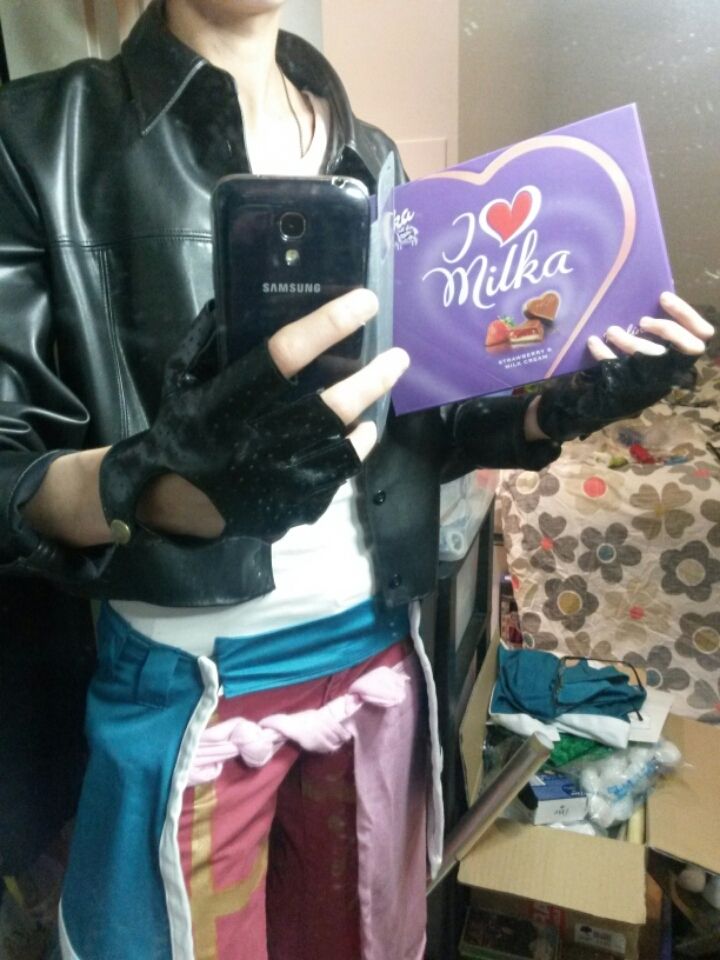 2-6-2014
Well, this'd be funnier if I were Artea but i just had to take a photo with that chocolate box!
You can also see I added the straps on the green cloth (for the belts to go through)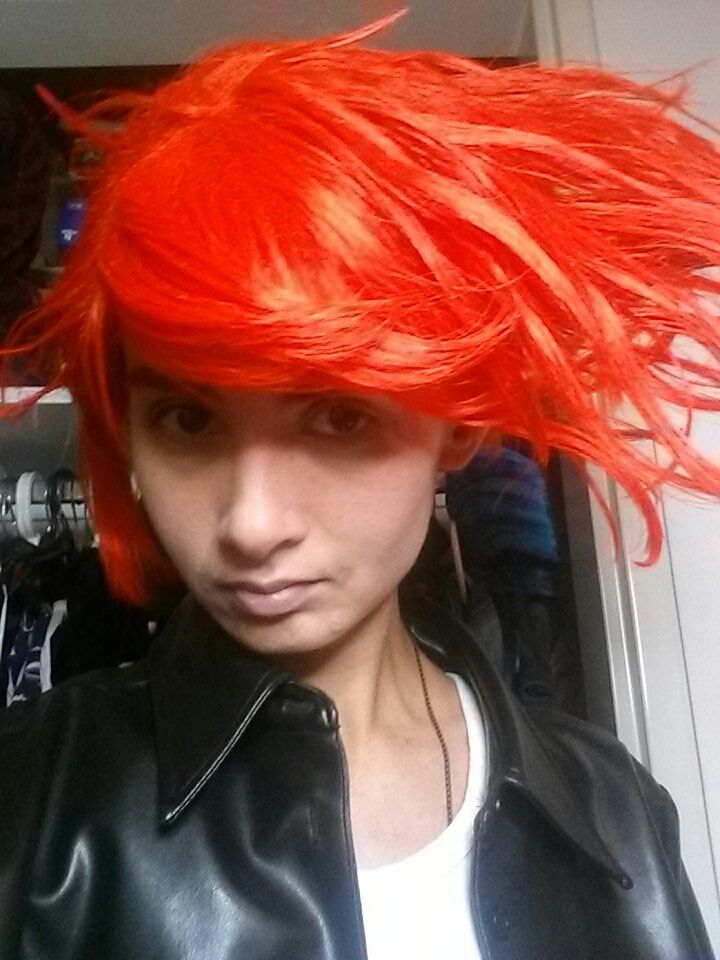 Make up test and "styling" the wig. And by "styling" I mean I just put it upside down and hairsprayed the heck of it. This actually isn't a good idea because the hair will just go down after a few hours of walking around so I had to spray the wig every time I had to use it (I didn't know that yet =P).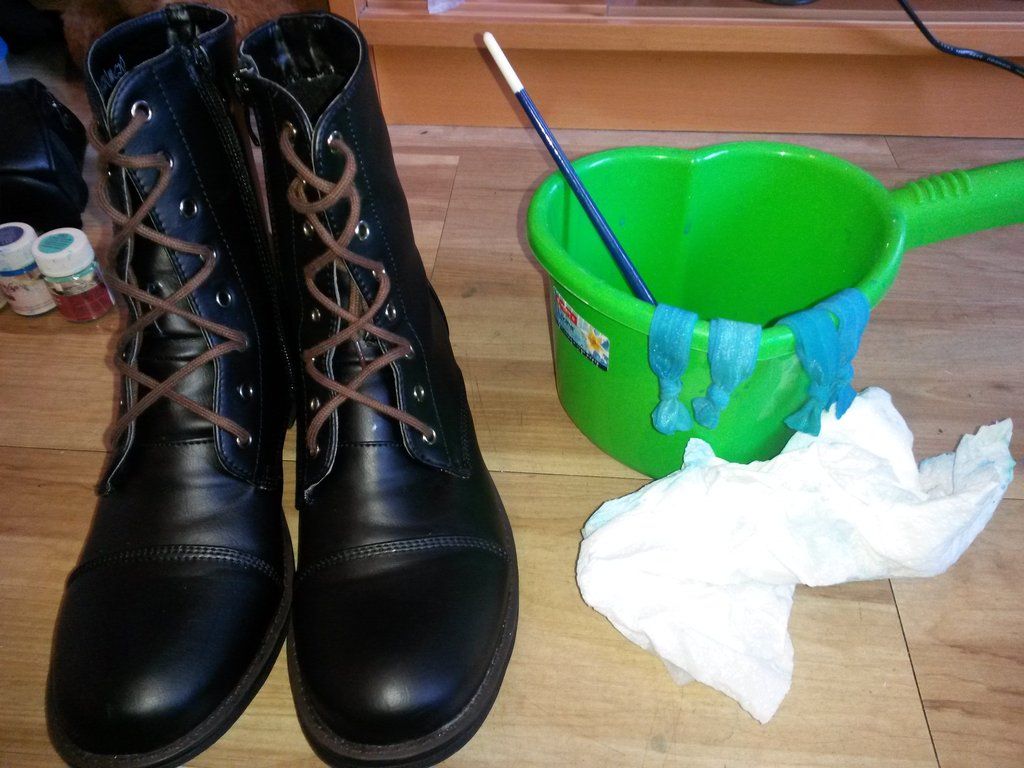 Making dye to turn the elastics around Maxim's shoes green/blue.
I think the elastics are supposed to go into your hair but the only thing I cared about when I saw them in store was "Hey that's just what I need for my shoes!"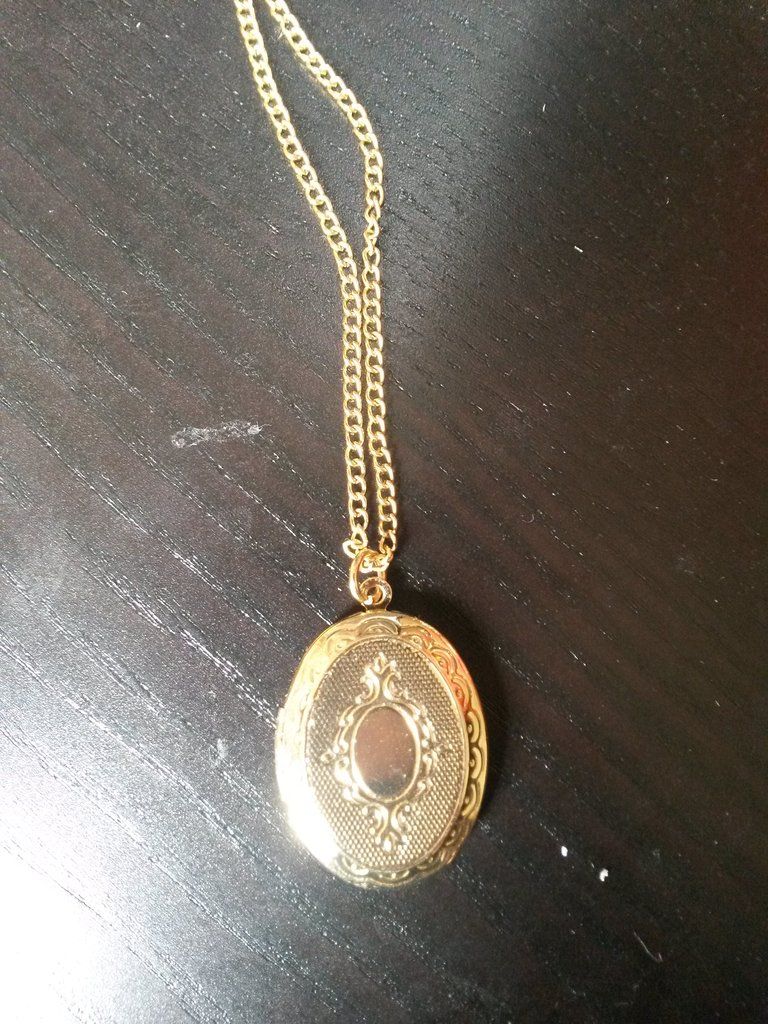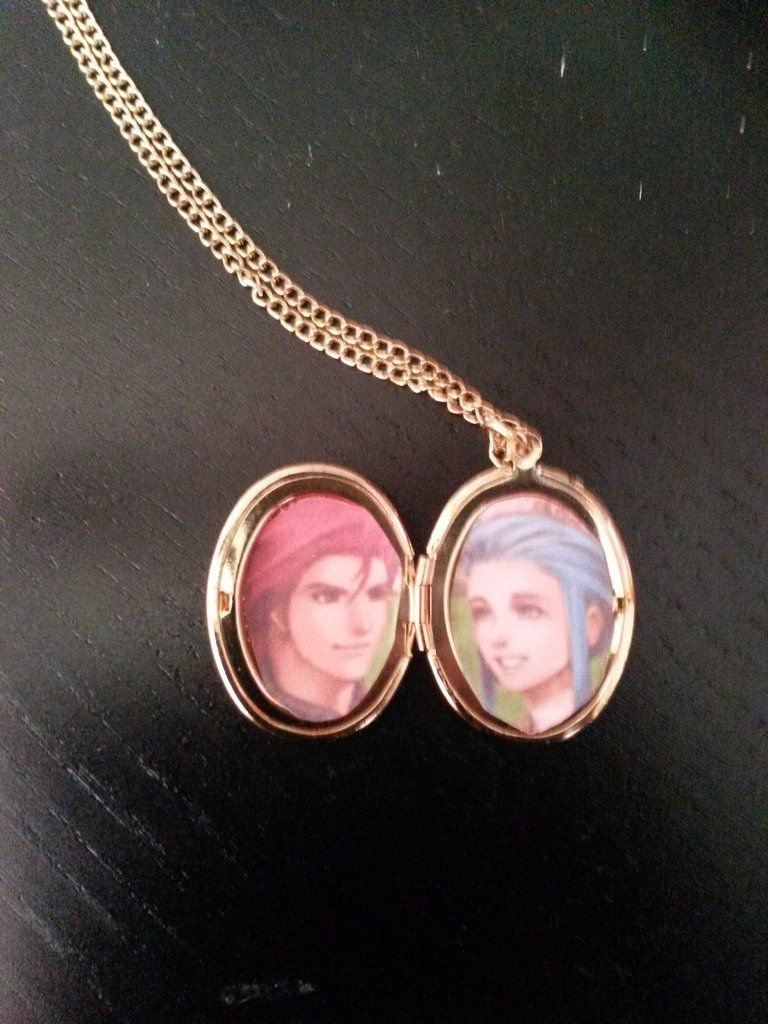 4-6-2014
Replaced my random necklace with a locket, in which I inserted portraits of Maxim and Selan at their wedding.
Maxim wearing a locket was actually my headcanon long before I made this.
Next, I think it was about this week that I dropped some super glue on my pants and wasted about a week trying to fix that. I didn't get it out but I made it less noticable. After this I made and attached pockets and other details on the green thing and Maxim's coat, though I don't think I have photos of that. Fun fact: the pockets on the green thing were made just big enough to fit my 3DSXL, so I can carry that around on cons. However, since I have upgraded to a New3DSXL by now... it doesn't fit inside the pockets =P
Well, here's a photo of my coat the afternoon before the con! I thought the overall cosplay was recognizable as Maxim, but since I've come so far I decided to just add the pockets I already worked on before. And as you can see I already had 1 and a half pocket attached, so i couldn't just walk around like that on a con anyway=P
I worked on the coat for the whole night and finished it at 5am of the morning of the first day of the con O_0 The con is actually 20 minutes from me by bus, so I was able to get a few hours of sleep since I didn't have to spend much time on traveling =P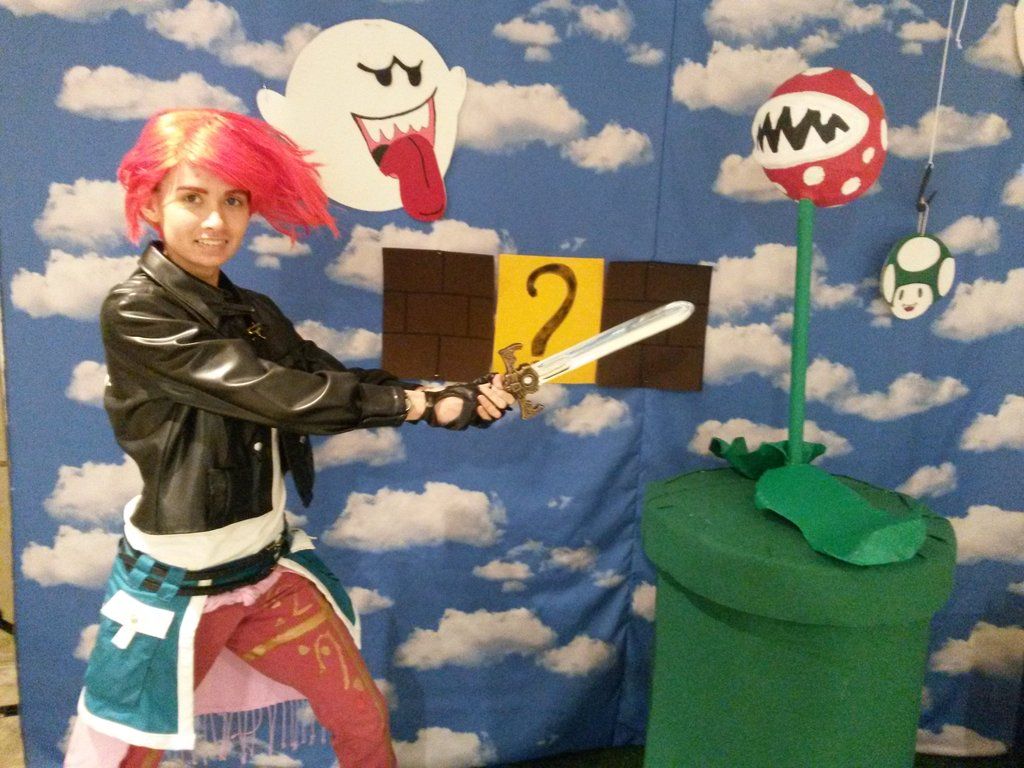 And here's a photo on the con,
I call this the first version of my cosplay. I wanted to redo the pants because I dropped super glue on it, which I couldn't remove.
Next photos are from August 2014, when I redid the pants. There was a con late August so I thought that was another good reason to redo my pants.
This is a new pair of red pants. (I actually bought 2 pairs just in case!)
Using tapes to make the lines straight and neat! When I did my first pair of pants, the crayon/paint was done freehand.
Time for the paint!
The crosses have dried
Using a transparent sheet to draw where I want the details on the pants.
Then I used that transparent sheet to make a template.
Using the template and waiting for the paint to dry.
The left side after removing the template
Time for the right side. I turned around the template, so the details on the pants turned out symmetrical. The template is actually made of a cereal box.
After it was finished!
The old pants for comparison.
I got a new wig around october 2014, which I styled myself and wore to a con in November. I don't actually have photos of when I styled the wig though. That version with the new wig and new pants is what my cosplay still looks like now! I also got a bigger sword than the one I had in 2014.