just in case someone hasn't finished Lufia DS yet. this thread might have possible spoilers!
Anyway, a list of differences between early screenshots and the final versions, and some removed stuff.
Some dummied items show that there were going to be (temporary?) stat boosting items at one point during the development.
Power Drug, Intelli Drug, Magic Guard and Alina Gain (?)(Don't know how to translate the last one)
None of the items do anything when I try using them on a character.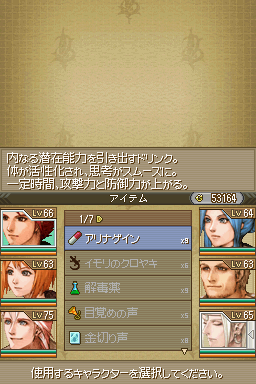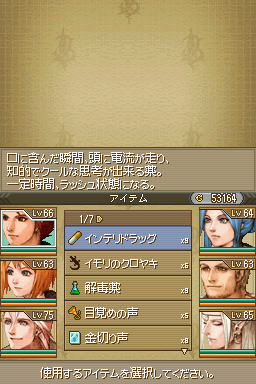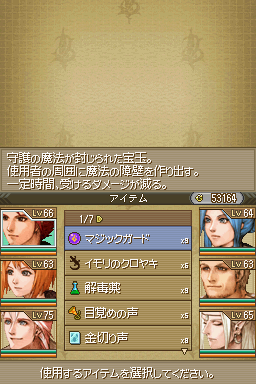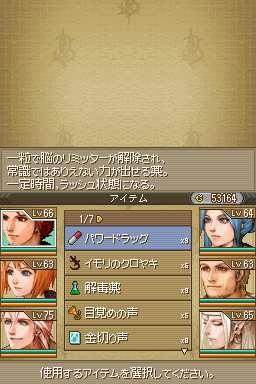 Screenshots (sorry I can't read the descriptions)
In the US data, they're nameless items and don't have a description.
Besides that, there are a bunch of dummied equipment. Some descriptions say that it's just for debugging.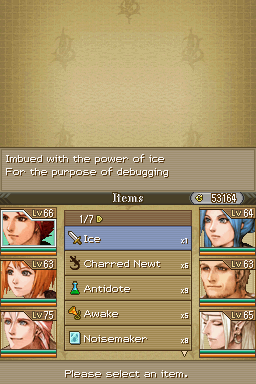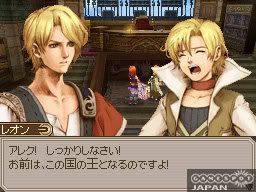 This screenshot appears to be from the scene when Leon tells Alex about Dekar's death... but Alex is in the throne room.
In the final version, you can only trigger this scene before Leon gets arrested, meaning Alex shouldn't be in the throne room yet. And Alex only moves to the throne move after he's the king.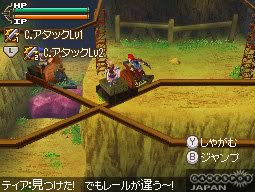 This screenshot shows a transparent dialogue box instead of a black one.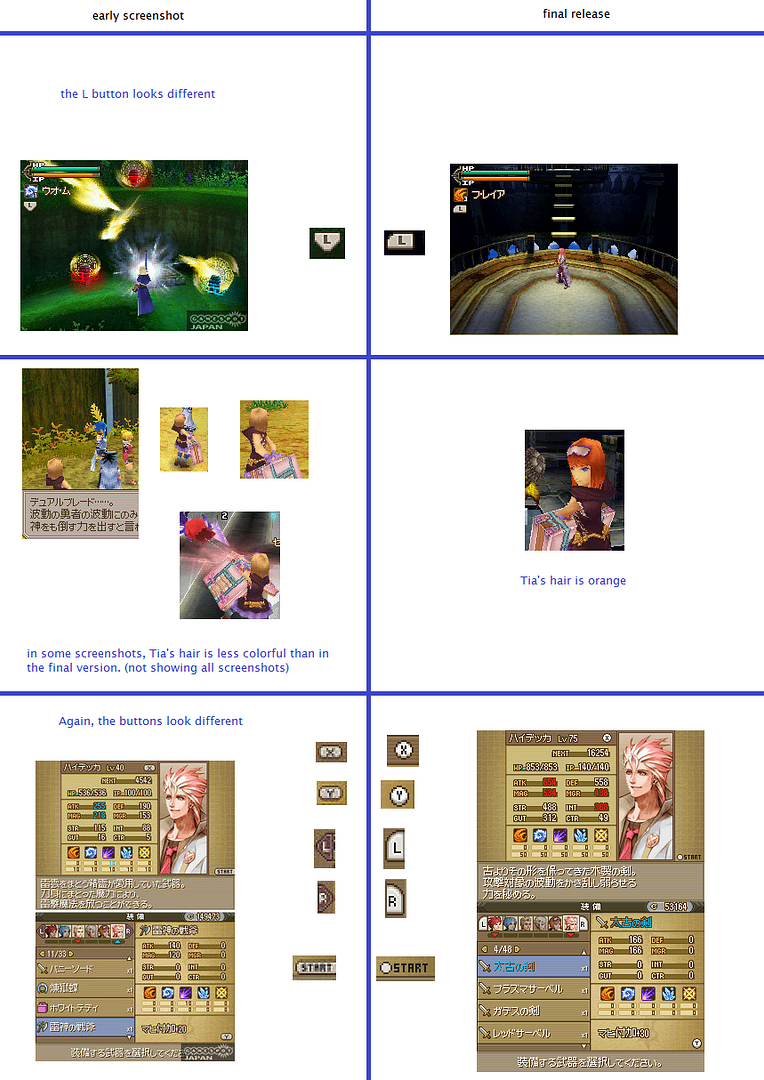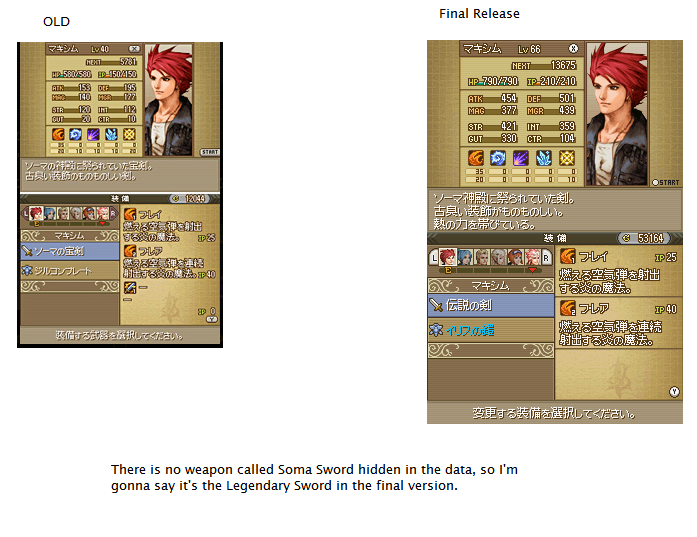 Weapon change?
Some more graphical changes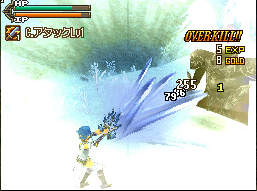 Overkill message. In the final version, it doesn't show "OVERKILL!!" when you overkill a monster. It only show the damage in yellow.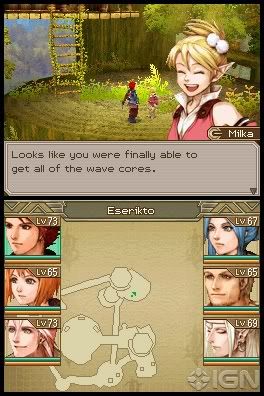 Old screenshot.
Apparently Natsume used the translation "wave cores" in the early US version. Anyway, they're called energy cores in the US version now.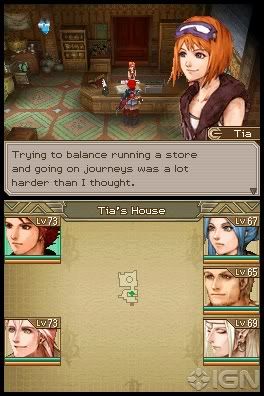 Old screenshot.
This screenshot is also on the back of the game case. However, she doesn't say this in the game and I can't find this dialogue in the game data either?
Different spellings
In some early screenshots of Natsume, Tanbel was spelled Tanbell, the Flame Robe was a Frame Robe and Idura was called Idula once. Probably changed back to their Lufia II spellings because people complained about it =P
Well, I think if they mentioned the Excelion in one of the early screenshots, people would complain about it should be the Excerion, not Excelion.
Early screenshots also show the Japanese names for the spells.
names
Some names that stayed the same in the Japanese games, but where the English version didn't use the Lufia II translation.
Treasure Sword -> Legendary Sword
BlastMaster -> Exploding Sword
Lemmy -> Lamitty (Lamitty is Lemmy's Japanese name)
Voice Acting
In the Japanese version, there would be random voiced conversations in towns. I didn't hear anything when playing the US version, but the soundfiles were still recorded in English...
http://www.youtube.com/watch?v=dqmjPTGBhK8
The English conversations (inserted the English sound file into a japanese ROM)
Besides that, there is some more unused voice acting. The Japanese files also had more unused battle voices of tired characters. Only Dekar's was used in the game (after using Exploding Sword).
All English voice acting (including unused files)
Part 1:
http://www.youtube.com/watch?v=zXnDmnVM_aI
Part 2:
http://www.youtube.com/watch?v=dZCgqriDhdk
Unused music
Lufia II Love theme isn't used in the game, but it is in the sound files:
http://www.youtube.com/watch?v=4DBezqgjrJw
Demo Dialogue
The dialogue from the E3 Demo is inside the game data.
Unused monsters
This is a list of the monsters. (quoting my post from gamefaqs)
I never saw a gold mimic, or a green mimic. Or any green chest! Maybe some of the other monsters were removed too.
I remember RevenantThings said in a thread he wanted enemy names, so I might as well post this.

Enemy names as listed in the game itself (some engrish stuff, for example jerry instead of jelly)

RedJerry
BlueJerry
GreenJerry
GoldJerry

RedCup
BlueCup
GreenCup
GoldCup

RedCore
BlueCore
GreenCore
GoldCore
VoidCore

RedMimic
BlueMimic
GreenMimic
GoldMimic
(I don'remember any green treasurechests...)

KillerBee
DarkFly
Sting
ArmorBee

PoisonManta
SleepManta
ParalyManta

PapillonPoison
PapillonBerceuse
PapillonBerceuse2
PapillonFossil

FlareGlow
WaterGlow
IceGlow
ThunderGlow

Armado
ArmadoLancer
ArmadoMage
ArmadoKnight

PumpkinHead
MadHead
KillerHead
JarHead

DullahanBlue
DullahanCopper
DullahanDark
DullahanGold

Shadow

Skeleton
SkeletonLancer
SkeletonMage
SkeletonKnight

Rafflesia
Willil
BloodPlant

Cyclops
Gigantes
HellChariot
ChariotAlpha
ChariotBeta

SkyJerry
SkyJerry3

FlareGolem
WaterGolem
IceGolem
ThunderGolem

Hydra
HighHydra
KingHydra

Orochi

RedDragon
BlueDragon
BlackDragon
WhiteDragon
GoldDragon

JunkBee

BombJerry


----
Not sure if all of the following are actually part of the monsters/enemies

FatGades
GadesDebris
GadesDebris2
GadesDebris3
GadesDebris4
GadesDebris7

TrueGades
TrueGades01
TrueGades02
TrueGades03
TrueGadesCore

Idura

Gades00
TrueAmon00
TrueErim00
TrueErim01
TrueErim_b
TrueDios00 (Dios is Daos' japanese name)

WarmEye

Tank
ChariotTank0
ChariotTank2
ChariotTank3

PapillonBigKazoe
WarmEyeNPC

Gades01
WallCore00

TrueAmonBit00
TrueAmonBit01

Nushi (Jelly at floor 100 of the Ancient Cave)
TDIOS
TrueAmon01
EggDragon
Funnel0
Soul0
Soul1





More to Gratze?
I think there might be more to Gratze (or at least Gratze's Factory)
http://www.youtube.com/watch?v=C8NW5b4zZYc
in the trailer, if you pay attention, you can see a save point near the missile. but in the final game you don't see anything at that place! You can't reach it either.
There is a place called "Gratze Fcty. Hangar"
But you never visit an area called that.
This might be a possible way to that location, if you did get to visit it: If you look at the map when you're in the tank, you'll notice a way to a different area. But you can't destroy the wall with the tank, and you can't go back walking to the door after the tank crashes <_<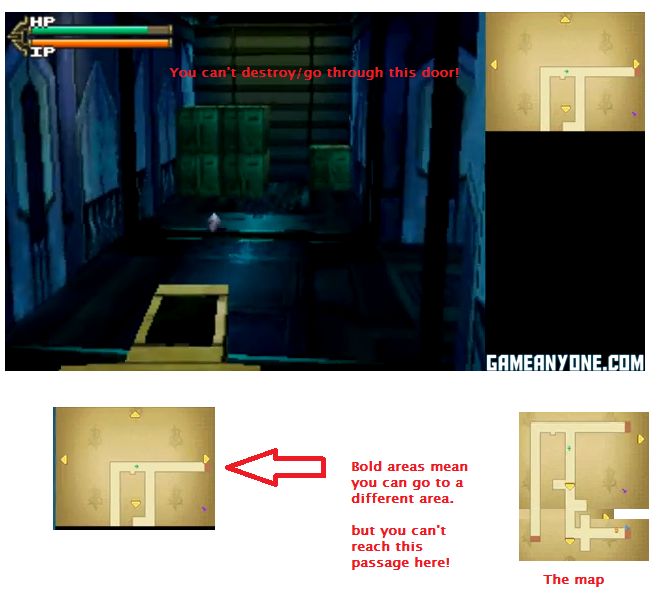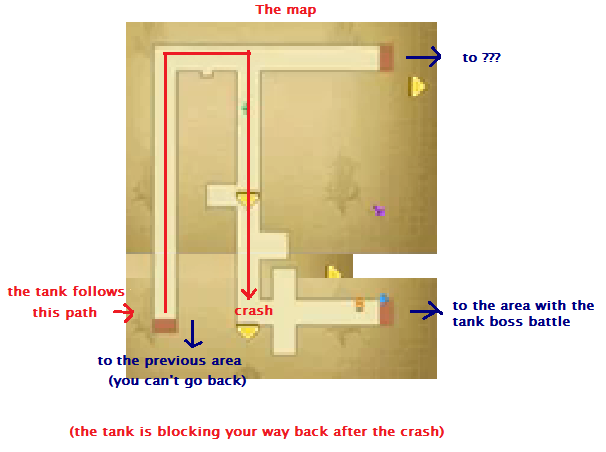 Theory (this is just speculation, a possible theory, there is no real proof this theory is true): at one point of the game, to get to the missile, Maxim would go through the factory again, and go through the other path shown on the map. (instead of him just jumping out of the window)
As for the savepoint, why would it be there? A bossbattle on the missile? Or did you indeed have to go through a new area to get to the missile, so they just added a savepoint for the end of the dungeon? Who knows.